#1 Business Coach in Brisbane
"I've 10Xed my revenue in 12 months"
Amber Boyers, BAIIA Swimwear, January 2021
The Entourage has coached 3500+ businesses across more than 150 industries
Business coaching & training that has generated $2 billion in revenue
Global community of 500,000+ entrepreneurs & business owners
What can a business coach do for a
Brisbane-based business

?
"If you're the smartest person in the room, you're in the wrong room."
Do you agree with this quote? It's something that we at The Entourage truly believe in, especially for business owners looking to scale to 7 and 8-figures and beyond. With an entourage of industry experts, business coaches, and other entrepreneurs who have been-there-done-that experience all at your disposal, you'll always find yourself in the right room with The Entourage.

We believe that building a business is a skill, and it's a skill that we can teach you. As Australia's leading trainer and community for entrepreneurs and business owners, our programs with 1-on-1 business coaching are made for entrepreneurs just like you. Having helped transform over 3500 businesses located across Brisbane, Sydney, Melbourne, Perth, Adelaide and the rest of the world outside of Australia, The Entourage's business coaches know what they're doing.

With decades of experience and local industry knowledge in Brisbane and Australia, our business coaches have all the right tools, skills and knowledge to help guide you towards success. And with a community of like-minded entrepreneurs of all different experience levels, sizes, and 150+ industries, this is your opportunity to join the biggest growing community of small to medium business owners in Brisbane and Australia, and make your business journey one filled with clear steps, strategies, support and results.

To the entrepreneurs in Brisbane who are looking to take the next step in their business growth journey and join a community made for you, The Entourage is what you're looking for.

Brisbane Businesses

We Have Coached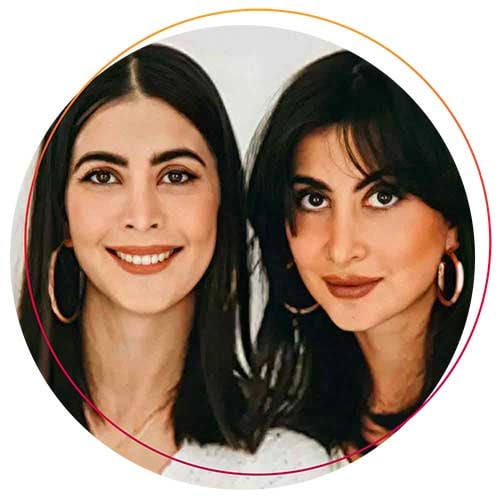 Daniella Dionyssiou and Natalia Suesskow
Daniella & Natalia went from 7 to 8-figure within 6 months of joining The Entourage
Founded in Brisbane, Verge Girl has undergone huge growth since 2007 to become one of the world's biggest online fashion brands.
"We knew our business had plenty of potential, but after 13 years we didn't know how take their business to the next level. Within 6 months of joining The Entourage, we went from a 7 to an 8-figure business, and within 12 months we'd grown 100% compared to the same period last year. More importantly, we've started working as true leaders. We now have the confidence, structure and strategies to continue to unlock Verge Girl's potential."
Read more about Daniella and Natalia's journey with The Entourage here.
Step-by-step business mentoring in Brisbane
We believe that no entrepreneur should build their business alone because no one person knows every intricate detail of business. That's why when you join The Entourage, you'll get access to our extensive network of Australia's leading experts, advisors and coaches. With experience across all different areas of business and knowledge of the local economy in Brisbane and Australia, we are here to help you succeed and make your business journey easier.
With three key programs made for different stages of business, the coaching at The Entourage is made to be targeted and tailored to your business' specific challenges, revenue level, and goals to get you to the next scale of business. And with extensive involvement working with Brisbane businesses, our business coaches are ready to help you no matter what industry you are in, or what problems you face.
Do we have small business coaching catered to Brisbane business owners?
Through our 12 years of experience as well as that of our wide pool of industry knowledge and expertise, we have been able to help 3500+ small businesses across 150+ industries transform and accrue over $2 billion in revenue since 2010. With an understanding and personal experience in small business, our network of experts and small business coaches are here to help make you our next success story.
With a deep awareness of the specific challenges and problems that all small business owners face, our training and small business coaching programs will guide you to mastering the essential pillars of business to get you to multi-million dollars in revenue —
Marketing
,
Sales
,
Product
,
Operations
,
Finance
, and
People
. Unsure of which of our small business coaching programs is right for your business in Brisbane? See below for our 3 core programs separated by the different stages of a small to medium-sized business.
Why work with a business coach?
Our business coaching programs are made to be tailored to your specific stage of business, and the needs and challenges you will be facing at your current stage. With thousands of business owners having gone through these programs already and succeeding, you know you'll be able to master the six essential pillars of business that every multi-million dollar business has perfected with our help — Marketing, Sales, Finance, People & Leadership, Operations, and Product.

Our business coaches, along with our trusted advisors and industry experts, are all personally invested in your success and in leading you in the right direction based on your business' specific hurdles and growth goals. With experience across Brisbane, Sydney, and the other cities around Australia and the world, they will be able to share with you their decades of knowledge and experience to help elevate your business to the next level.

The accumulated experience in The Entourage, across multitudes of industries, businesses, and fields, is what separates us from any other coach you may have worked with in the past, locally in Brisbane, or remotely around the world. With a vast array of resources and an extensive community of like-minded entrepreneurs available to help guide and support you along your path, you will find that our business coaching program is like no other.
Over 120,000 business owners across the Sunshine State and Brisbane have joined our community at The Entourage since we started in 2010. We've hosted countless events for entrepreneurs including Unconvention, ranked in the Top 3 Events for Entrepreneurs Worldwide by Entrepreneur Magazine, and we've coached and guided thousands of entrepreneurs, with businesses of all sizes, on their journey to success. And in that time, we've helped our members add over $2 billion in value to their businesses.
Business connections
We believe that everything in business is a skill that can be taught. With an entourage of industry experts, business coaches, and entrepreneurs with been-there-done-that experience locally in small businesses across Queensland as well as Australia-wide, you'll receive the right guidance and advice through the help of The Entourage's connections to grow your small business into one that is scalable, sustainable and can eventually work beyond you.
1 on 1 coaching
With three key programs for the different stages of small business, the coaching we provide at The Entourage is made to be targeted and tailored to your business's specific challenges, revenue level, and goals to get you where you want to go. Our main programs, The Entourage Accelerate and Elevate Programs, feature 1-on-1 coaching with your team of coaches, as well as access to workshops, webinars, and events taught by Australia's leading experts.
Community
As part of The Entourage program, you'll also get access to Australia's leading community of entrepreneurs and business owners. With frequent chances to attend networking and growth events around the country with other like-minded business owners just like you, you'll gain friendships and even sometimes, business opportunities, that will last a lifetime. Stop going on this journey alone, and start connecting with those who know exactly what you're going through.
Our training & coaching programs
Discover your best next steps for building the business you've always wanted with a 30-minute free call.
Gain full clarity on the core growth opportunities and most pressing challenges facing you and your business.
Connect with Australia's leading business coaching and training provider for 6, 7, and 8-figure founders.
Walk away with a roadmap to elevate your business to the next level.
Frequently Asked Questions
Are your business coaches based in Brisbane?
What kind of business training do your coaches provide for Brisbane-based businesses?
How long do the programs run for?
Do the business coaches teach Brisbane businesses online or in-person?
How credible are your business coaches?
Looking for a coach in another area in Australia?
How do I find a business mentor?
What does a business mentor do?