#1 Business Coach in Adelaide
"We increased our profits by 6x in 6 months!"
Kate Prior, face2face Recruitment
The Entourage has coached 3500+ businesses across more than 150 industries
Business coaching & training that has generated $2 billion in revenue
Global community of 500,000+ entrepreneurs & business owners
What can our business coaches do for a
business based in Adelaide

?
At The Entourage, we believe that building a business is a skill, and it's a skill that we can teach you. With an entourage of industry experts, business coaches, and entrepreneurs with been-there-done-that experience locally in Adelaide as well as across Australia, The Entourage has the right resources, knowledge and experience to help take your business to the next level.

Since 2010, we have been Australia's leading trainer and community for entrepreneurs and business owners just like you. We've empowered thousands of entrepreneurs across Adelaide, Brisbane, Sydney, Perth and Melbourne to build the business of their dreams through the programs, community, and events that we provide.

Our members' personal and commercial outcomes are at the heart of everything we do, from the 1-on-1 coaching in our programs to providing them with access to the world's best entrepreneurs and thought leaders. With a community of 500,000+ across 150+ industries in Australia and the world, this is your best opportunity to build a business based in Adelaide that is scalable and sustainable and that works without you, with the help of our business coaches.

With experienced and dedicated business coaches at your side, looking to help you take the next step in your business' growth journey, you know that our team has your best interests at heart. For those who want to build the business of their dreams with experts at your disposal, this is that opportunity for you to take the next big leap towards success with The Entourage.

Adelaide Businesses

We Have Coached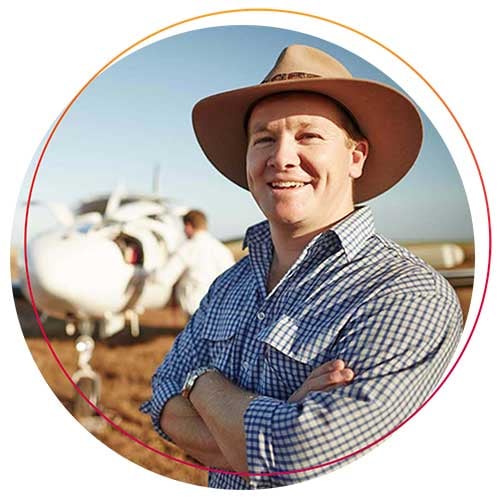 John Dyer
John added $1 million to his bottom line in less than 1 year of joining The Entourage
When John joined the family business at Air Adventure Australia, he knew that the business had more potential to grow. With no real marketing and sales strategies in place, Air Adventure was heavily reliant on word of mouth referrals only which wasn't setting them up for sustainable growth.
After joining The Entourage, he worked hand-in-hand with his Elevate business coach, attending workshops and connected with the community to put in place a robust marketing and sales strategy for the first time. In less than a year John was able to increase the revenue of his business by $1 million while doubling the size of his team and achieving a Net Promoter Score (NPS) of 83. "I think I was on autopilot, but The Entourage flicked the switch for me."
Read more about John's journey with us at The Entourage here.
Step-by-step business mentoring in Adelaide
We believe that no entrepreneur should build their business alone because no one person knows every intricate detail of business. That's why when you join The Entourage, you'll get access to our extensive network of Australia's leading experts, advisors and coaches. With experience across all different areas of business and knowledge of the local economy in Adelaide and Australia, we are here to help you succeed and make your business journey easier.
With three key programs made for different stages of business, the coaching at The Entourage is made to be targeted and tailored to your business' specific challenges, revenue level, and goals to get you to the next scale of business. And with extensive involvement working with Adelaide businesses, our business coaches are ready to help you no matter what industry you are in, or what problems you face.
What makes a good
business coach

?
It doesn't matter where you are on your business journey, or how big your business is, having a mentor, a business coach who can look at your situation objectively and provide you with the right resources and knowledge to your specific challenges is vital to positive growth in your business.

A good business coach not only has the right business experience to help take your business to the next level, but should also be able to lead you in the right direction to trusted advisors and industry experts depending on your challenges. Because we know that no one person knows everything, which is why at The Entourage, our business coaches will be able to introduce you to our repertoire of Vision Partners, or experts, as well as other leading entrepreneurs along your journey with us.

The accumulated experience in The Entourage, across multitudes of industries, businesses and fields, is what separates us from any other coach you may have worked with in the past, locally in Adelaide, or remotely around the world. With local experience across Adelaide, Melbourne, and other cities across Australia and the world, our business coaches will be able to share decades of knowledge and experience to help you elevate your business to the next level. You will find that our business coaching program is like no other.
What kind of
business training

do we provide in Adelaide?
Over 100,000 business owners across South Australia have joined our community at The Entourage so far. Having hosted Adelaide entrepreneurs like David Rohrsheim and Andre Eikmeier at our key business event, Unconvention, our programs and coaching are known to have guided countless Adelaide entrepreneurs to build the business of their dreams and make their mark on the world.

The training provided with us at The Entourage is made to be tailored to your specific stage of business, and the needs and challenges you will be facing at your current stage. We'll help you master the six essential pillars of business that every multi-million dollar business has perfected — Marketing, Sales, Finance, People & Leadership, Operations, and Product. With experts and resources in each field available to our members, you can expect to get a holistic understanding of how to take your business into 7 and 8-figures, and beyond.
Do we have small business coaching for Adelaide businesses?
As our three key programs are tailored for each different stage of small to medium business, we do have small business coaches for Adelaide businesses in our programs. Our main programs, The Entourage Accelerate and Elevate Programs, have 1-on-1 business coaching provided, as well as workshops, webinars and events from industry experts and Australia's leading entrepreneurs for all of our Members in these programs.
With our 2 core small business coaching programs, you'll also have access to networking events around the country with the rest of the members in our program. As the coaching we provide at The Entourage is made to be targeted and tailored to your business's specific challenges, revenue level, and goals to get you to your goals, these two programs are application only.
You'll find that our entourage of industry experts and coaches have a wide range of knowledge and expertise within small business. Having helped 3500+ small businesses across 150+ industries transform and accrue over $2 billion in revenue since 2010, our network of experts and small business coaches are here to help make you our next success story.
Discover your best next steps for building the business you've always wanted with a 30-minute free call.
Gain full clarity on the core growth opportunities and most pressing challenges facing you and your business.
Connect with Australia's leading business coaching and training provider for 6, 7, and 8-figure founders.
Walk away with a roadmap to elevate your business to the next level.
Frequently Asked Questions
Are your business coaches based in Adelaide?
How long do the programs run for?
Do the business coaches teach Adelaide businesses online or in person?
How credible are your business coaches?
Do your business coaches work with all sizes and industries of businesses in Adelaide?
How do I find a business coach in Adelaide?
How can a business mentor help me?