Business Coaching for Retail & E-Commerce
"We've gone from a 7-figure business to an 8-figures in 6 months."
Daniella & Natalia, Verge Girl
The retail and e-commerce sector continues to change at a rapid pace. But it's not enough to just keep up with the change - you need to stay ahead of the curve. At The Entourage, through our business coaching programs, we've been able to help retail and e-commerce businesses such as Verge Girl take their business to the next level.

What should you consider when hiring a coach as an
e-commerce founder

?
From margins to manufacturing, there's a lot that needs to be considered when it comes to starting and scaling a retail or e-commerce business. With so much pressure to stay ahead of the curve, keep up with the rate of change, and innovate as you go, it's hard to balance all this while you're also trying to run your business, support your team, and plan for growth.

Whether you've been in business for years or you're just starting out, understand that the game of retail and e-commerce can go 1 of 2 ways - boom or bust. But with the help of a business coach by your side, you'll have the right resources, tools and knowledge to take your business to the next level.
When looking for a business coach to help your retail or e-commerce business, it's important to consider what they can offer you. When you join our business coaching programs, you'll receive access to an immense library of resources and tools, 1-on-1 coaching, and to the top industry experts who can guide you in your mastery of all six pillars of business that we teach are fundamental to every multi-million dollar business's success — Marketing, Sales, Finance, Operations, People & Leadership, and Product.

As no one person knows everything there is to know when building a successful retail or e-commerce business, with an entourage of experts and advisors by your side at The Entourage, you know you'll be in good hands in our business coaching programs. We know that building a business is a skill, and that's why we've formulated programs that are made to teach you and guide you with your personal business coach based on your business's current size, challenges and needs.
E-Commerce & Retail Success Stories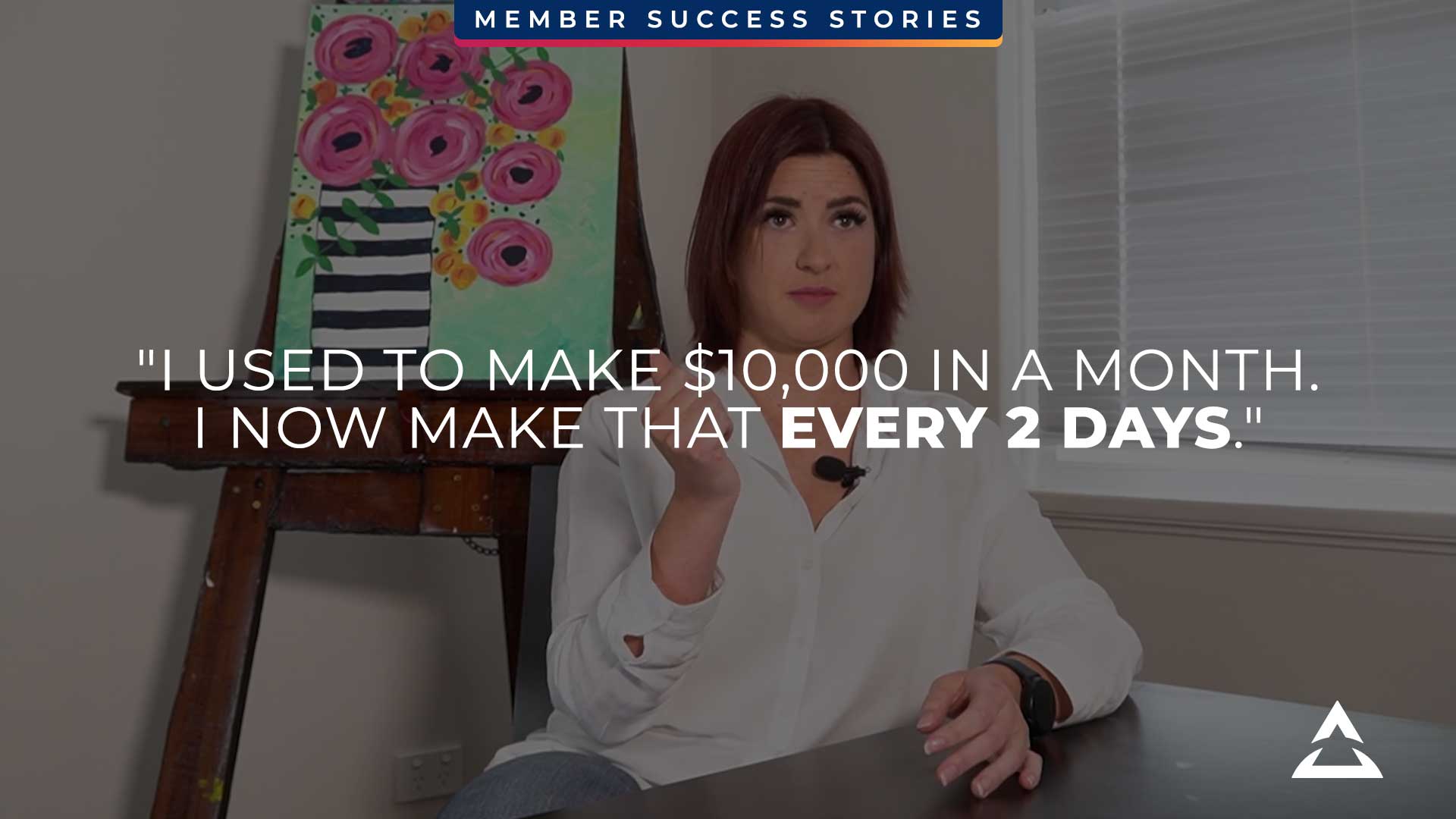 Lena Hughes went from earning $10,000 a month to $10,000 every 2 days with The Entourage's help
As a one-person team, Lena Hughes worked on her business, Bubbles and Brushes, over weeknights and weekends. Finding it difficult to balance other priorities, she felt burnt out and overwhelmed despite having bigger dreams for the business.
After Lena joined The Entourage's Accelerate program and implementing what she learned from our expert advisors and coaches, she saw immediate results. With her new Facebook marketing strategy, Lena increased her revenue more than 5x in a single week from $3000 to $16,000.
We've helped generate $2 billion for Australian businesses
Our Members don't achieve isolated and temporary results. Take a look for yourself.
From the successes of businesses such as Verge Girl to Showpo and more, with thousands of businesses across retail and e-commerce and 150 other industries, their success is why we are here. Our business coaching programs at The Entourage have helped transform over 40,000 businesses and guide just as many business owners to build the business of their dreams. See how we've been able to grow and scale businesses just like yours, and how we can help you make your mark on the world too.
Areas our business coaches can help an
e-commerce & retail business

with
Through our entourage of experts, advisors and coaches at your disposal, you'll be able to turn your retail or e-commerce business into one that is scalable, sustainable and can soon work without you. Your personal business coach will help guide you to the right resources and experts based on your retail or e-commerce business's specific challenges including:
Strong growth through marketing and sales
Marketing and sales are the lifeblood of any retail and e-commerce business. In order to reach more people, get more customers, and grow your retail or e-commerce business, you need to learn how to build a well-oiled marketing & sales engine as well as a strategy that supports your growth plans.
Choosing the right technology
Is your technology enabling your business' growth, or limiting it? Retail and e-commerce businesses that want to grow need to be built on and supported by the right technology stack - from your website, to your shopping cart solution, CRM and inventory management, it all matters. But do you know what's right for you?
Overcoming relentless & cut-throat competition
Look left. And look right. Competition in retail and e-commerce is everywhere, and there's more of them every time you take the chance to look. Reputation, referrals and positive word-of-mouth will get you so far, but how can you create a holistic strategy to grow and reach more people?
Achieving long-term profitable growth
Between delivery and returns logistics, increasing advertising spend, and inventory and overhead costs, you feel like a lot of money is going out of your retail or e-commerce business. Stop wishing for more money and start strategising with our business coaches.
Building a support system in your team
Stop thinking how, start thinking WHO. Your business won't outpace your own growth as a leader, so what are the steps to bring on a team and enable them to step up and take control of what you need so you're always focussed on your highest and best use?
And giving you the right guidance
You don't have the capacity or bandwidth to test and fail right now. You want to learn what you need to do and what not to do from coaches and advisors who actually know how to get you to where you want to be down the track. Let us show you how in a 12-month roadmap.
Here's how The Entourage can help you
We have a suite of business coaching and training programs, for business owners at every stage.
Our business coaching programs not only cater for businesses of different stages and experience, but also across multiple industries including that of retail and e-commerce, construction and trades, hospitality and tourism, and more. Our 2 main programs, our Elevate and Accelerate programs, not only provide 1-on-1 coaching but also an extensive amount of resources, tools, and access to experts who can support the growth of your retail or e-commerce business. Find out more about our programs below.

Online access to the world's best entrepreneurs and experts to start, run and grow a profitable business anytime, anywhere.
Short Course

Australia's only business coaching and advisory program exclusively for 7 and 8-figure founders.
Elevate

Business coaching & training program for business owners who want to accelerate their growth from 6 to 7 figures.
Accelerate
Discover your best next steps for building the business you've always wanted with a 30-minute free call.
Gain full clarity on the core growth opportunities and most pressing challenges facing you and your business.
Connect with Australia's leading business coaching and training provider for 6, 7, and 8-figure founders.
Walk away with a roadmap to elevate your business to the next level.
Who are these Discovery Sessions best suited for, and what can you expect to get out of this 30-minute free call with one of our experienced Entrepreneur Development Managers? Learn more about our Discovery Sessions here.
Frequently Asked Questions
Will I have a retail & e-commerce specific business coach?
How can a business coach help me grow my online retail business?
What will a business coach help me with my online business?
What does your business coaching program involve for a retail or e-commerce business store?
What are the signs I need a business coach for my retail company?
How many e-commerce businesses fail?
How much is my e-commerce business worth?