#1 Business Coaching for Hospitality & Tourism Businesses
"We increased our revenue by $1 million in 12 months."
John Dyer, Air Adventure Australia
Stop waiting for the right opportunity to drive serious growth in your hospitality or tourism business. Create it, today with us at The Entourage where you'll find business advisory, consulting, and training through our coaching programs which have helped hospitality & tourism businesses such as Air Adventure take their growth to the next level.

What should you consider when hiring a coach as a
hospitality & tourism

business owner?
What's the #1 problem facing business owners in the hospitality and tourism industry? Seasonality, ever-changing legislation and restrictions, small profit margins, and finding reliable staff are all good guesses...but that's not quite it. Yes, these are serious issues affecting you and thousands of other business owners, but the #1 problem is, in fact, you, the business owner.

Hear us out: you can only control what you can control. Legislation, restrictions, seasons and staff will come and go, but if you focus on what you can control, then we promise success will follow. Let our business coaches show you how.

When looking for a business coach who can provide business consultation and guidance for your hospitality & tourism business, it's important to consider what they can offer you. Is it their past experience in business? Is it the resources they have access to and can guide you through? Do they have a network of other industry leaders and advisors with been-there-done-that experience who can all guide your business to the next level?

These are the core things you need to consider when hiring a business coach as a hospitality & tourism founder. With The Entourage, we can put your mind at ease because we offer all of these things and more to help you grow your business. We know that building a business is a skill, and that's why we've formulated key business programs that are made to teach you and guide you based on your hospitality & tourism business's current size, challenges and needs.
Hospitality & Tourism Success Stories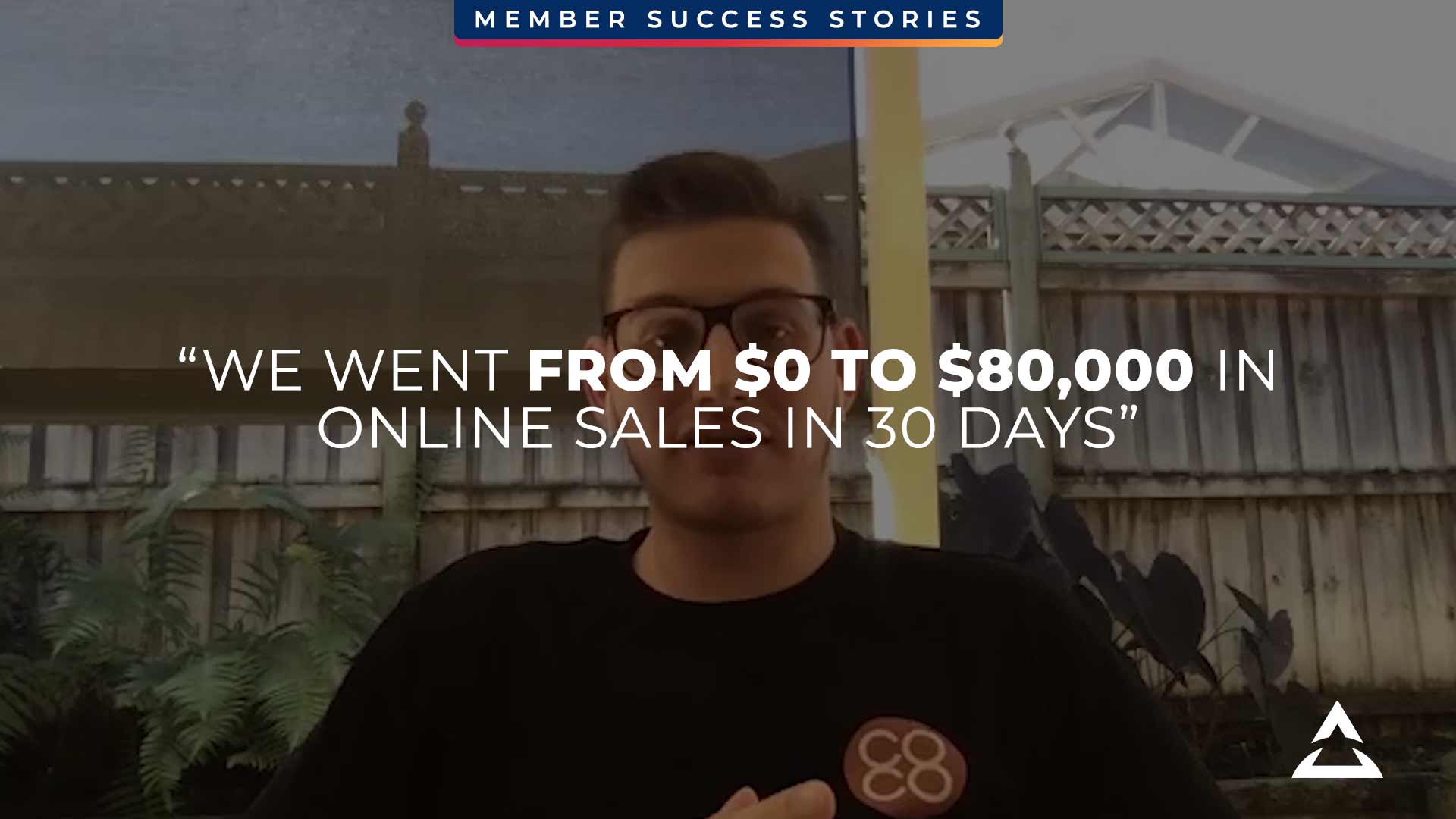 Chris Bertuccio made $80,000 in 30 days with the help of The Entourage's business coaches
Chris Bertuccio and his team at COCO88, a handmade chocolate store, were preparing for their busiest time of the year when the COVID-19 pandemic hit early 2020, finding themselves at a risk of shutting down.
Having been a part of The Entourage's Accelerate program, Chris spoke tos his bsiness coach and was able to immediately work out where he could pivot, innovating his product and delivery and within a matter of days started to make $2,000 a day, a leaping contrast to their peak seasons in store. Their revenue skyrocketed to $80,000 in that first month online.
We've helped generate $2 billion for Australian businesses
Our Members don't achieve isolated and temporary results. Take a look for yourself.
From the successes of businesses such as Air Adventure Australia and COCO88 and more, with thousands of businesses across hospitailty & tourism, and 150 other industries, their success is why we are here. Our business coaching programs at The Entourage have helped transform over 40,000 businesses and guide just as many business owners to build the business of their dreams. See how we've been able to grow and scale businesses just like yours, and how we can help you make your mark on the world too.
Areas our coaches can guide you on for
hospitality & tourism

businesses
Our entourage of business coaches not only have a variety of personal experience across multiple industries, including that of hospitality & tourism, they also have access to an immense library of resources and tools as well as the top industry experts across all of our six pillars of business that we teach that are fundamental to every multi-million dollar business's success — Marketing, Sales, Finance, Operations, People & Leadership, and Product.

With all of our business coaches, consultants and leaders at your side, you'll be able to take all of the challenges that you could face with your hospitality & tourism business and turn them into your strengths. Let us guide you with the right resources, tools and strategies based on our business consultations with you as a Member to help you build a scalable and sustainable business that can work with you by overcoming challenges such as:
Ever-changing & uncertain market
No two days are the same, but where that once excited you, it's now a major source of stress. When there's so much uncertainty surrounding hospitality and tourism, how can you make informed decisions for the sake of your customers, team and business?
You're working in the business, never on it
As the business owner, your job could be anything from bookkeeping to bartending to personal tours. Add to that the relentless hours, and you're spread so thin that you can never give anything your full attention. If you're not getting your hands dirty, things won't get done.
Inconsistent or lack of cash flow
This industry is notoriously difficult to crack, and this is why. You're making money, but finding it difficult to stay on top of seasonality, resulting in peaks and troughs of cash flow. You wish your cash flow was more consistent so you can hit your financial goals
Finding (and keeping) good staff
To grow your business beyond you, it's always a question of WHO, not how. But it's so difficult to recruit and retain reliable staff - and this could be damaging for any small business owner. How can you bring on the people you need who will stay with you?
Relentless and new competition
Look left. And look right. Your competition is everywhere, and there's more of them every time you look. Reputation and positive word-of-mouth will get you so far, but how can you create a marketing and sales strategy to grow and reach more people?
You want guidance but not sure from where
You don't have the capacity, bandwidth, capital or time to test and fail right now. You want to learn what you need to do...and what not to do from mentors and experts who are where you want to be, and have the right resources and tools to take you there too.
Here's how The Entourage can help you
We have a suite of business coaching and training programs, for business owners at every stage.
Our business coaching programs not only cater for businesses of different stages and experience, but also across multiple industries including that of hospitality and tourism, retail and e-commerce, construction and trades, and more. Our 2 main programs, our Elevate and Accelerate programs, not only provide 1-on-1 coaching but also an extensive amount of resources, tools, and access to experts who can support the growth of your hospitality or tuorism business. Find out more about our programs below.

Online access to the world's best entrepreneurs and experts to start, run and grow a profitable business anytime, anywhere.
Short Course

Australia's only business coaching and advisory program exclusively for 7 and 8-figure founders.
Elevate

Business coaching & training program for business owners who want to accelerate their growth from 6 to 7 figures.
Accelerate
Discover your best next steps for building the business you've always wanted with a 30-minute free call.
Gain full clarity on the core growth opportunities and most pressing challenges facing you and your business.
Connect with Australia's leading business coaching and training provider for 6, 7, and 8-figure founders.
Walk away with a roadmap to elevate your business to the next level.
Frequently Asked Questions
Will I have a hospitality & tourism experienced business coach?
How can a business coach help me grow my online tourism business?
What will a business coach help me with my hospitality & tourism business?
What does your business coaching program involve for a hospitality or tourism business store like mine?
What are the signs I need a business coach for my hospitality company?