#1 Business Coach in Auckland, NZ
"We Went From $0 To $80,000 In Online Sales In 30 Days"
Chris Bertuccio,
Coco88 Chocolate Patisserie
The Entourage has coached 3500+ businesses across more than 150 industries
Business coaching & training that has generated $2 billion in revenue
Global community of 500,000+ entrepreneurs & business owners
Auckland businesses

we have coached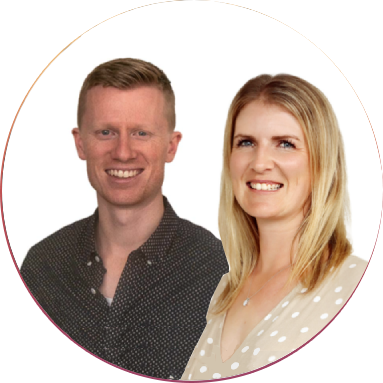 Matt & Chanelle Reid
Matt.& Chanelle set their business up to scale while increasing revenue mid-COVID
RAZOR Web Design started in 2007 as a side project in high school before opening its first office in Pukekohe, New Zealand in 2012. Matt & Chanelle's time with The Entourage saw RAZOR Web Design go from $1.2M to $1.6M during 2021, at the height of the pandemic for Auckland, NZ and around the globe. Since setting up the systems they needed to scale their business further, they've been raring to go, excited to see what they can do with their business moving forward.
What makes our business coaching so great for
businesses based in Auckland

?
Our business coaches differ from others you may find locally in Auckland or around New Zealand and the world because we offer a tailored experience specific to your business's challenges, needs and stage of scale. Based in Sydney, Australia with coaches who have experience around the world but especially in the APAC region, we'll put you with our team of dedicated business coaches who will help you create a 12-month roadmap that actually works. With a deep understanding of how NZ businesses work and the local market around there, and across in Australia, our coaches and repertoire of Vision Partners, or industry experts, as well as access to the leading entrepreneurs across NZ and Australia with been-there-done-that experience.

With decades of experience in mentoring NZ businesses in The Entourage, across multitudes of industries and businesses, you'll find our coaches different from any other coach or small business mentor you may have worked with in the past, locally in Auckland, or remotely around the world. With local experience across Auckland, Sydney, and the other cities across APAC and the world, our business coaches will be able to share decades of knowledge and experience to help you accelerate your business to the next level.
What kind of
business training

and advice do we provide in Auckland?
At The Entourage, our business coaching programs are focused around helping all of our members master the six essential pillars of business that every multi-million dollar business has perfected — Marketing, Sales, Finance, People & Leadership, Operations, and Product. With experts and resources in each field available to our members, expect to get a holistic understanding of how to take your business to $1 million or even $10 million and beyond.
Through our 12 years of experience as well as that of our wide pool of industry knowledge and expertise, we have been able to help 3500+ small businesses across 150+ industries transform and accrue over $2 billion in revenue since 2010. With an understanding and personal experience in small business, our network of experts and small business coaches are here to help make you our next success story.
With a deep awareness of the specific challenges and problems that all small business owners face, our main business coaching programs, The Entourage Accelerate and Elevate Programs, will be tailored to where you are at in business, whether you're a small business in Auckland, or a growing business based globally.
Discover how to build the business you've always wanted with a free coaching session.
Gain full clarity on the core growth opportunities and most pressing challenges facing you and your business.
Connect with Australia's leading business coaching and training provider for 6, 7, and 8-figure founders.
Walk away with a roadmap to elevate your business to the next level.
Frequently Asked Questions
Do the business coaches teach NZ businesses online or in person?
How credible are your business coaches?
Do your business coaches work with all sizes and industries of businesses in Auckland?