5 Ways Small Businesses Can Compete With Big Businesses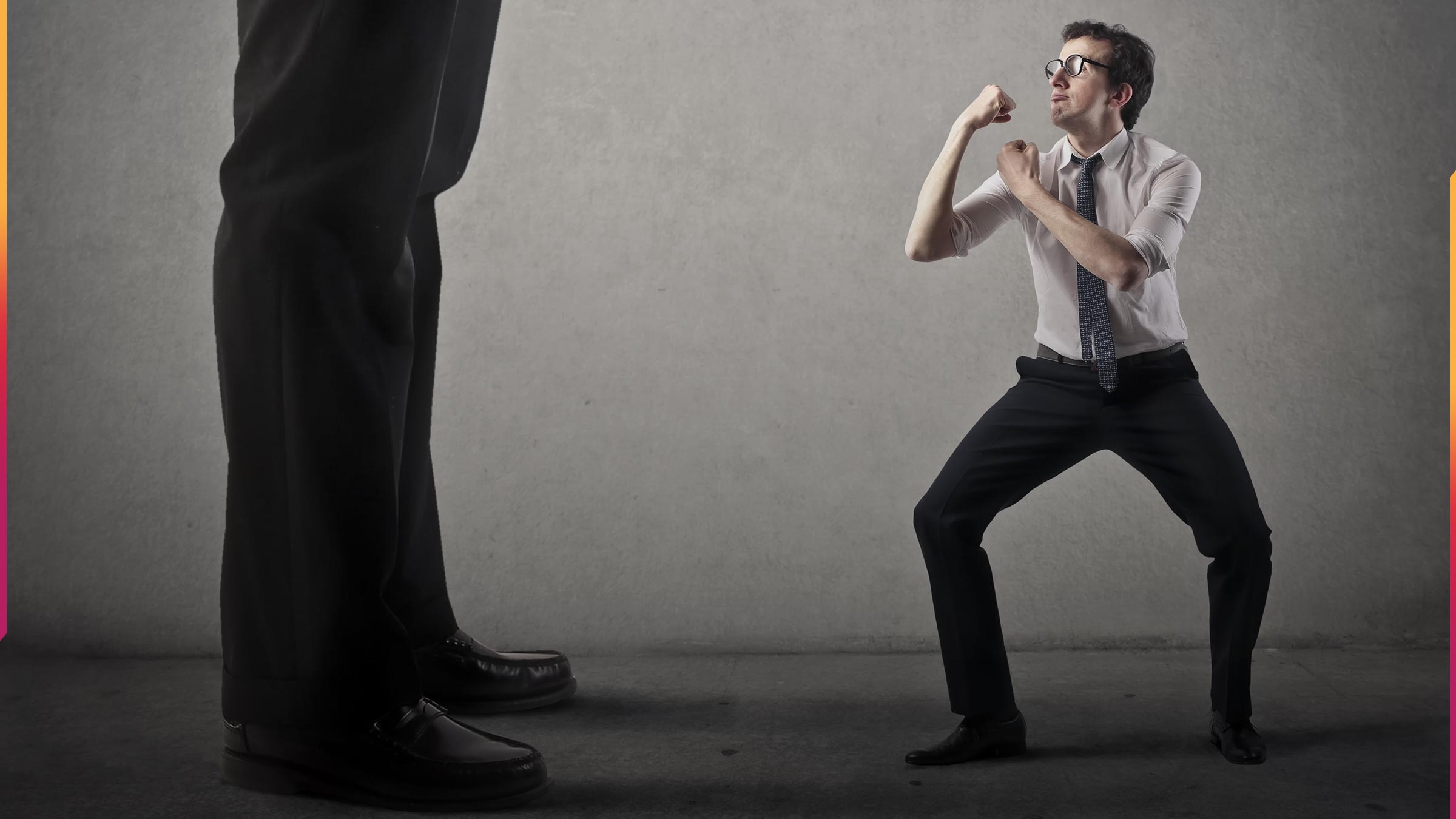 When you're starting in business, hearing of multi-million dollar business success stories or seeing competitors who have decades of experience before you can be intimidating. However, with the digital space evening the playing field, if you're smart, you can compete against big companies and often beat them at their own game.
By applying even just foundational principles to your business like ensuring you appeal to your target audience and finding your unique selling point (USP), and you might be quite surprised at the business you can start to get.
With a few strategies targeted at small businesses along with the consumer movement away from the big international brands to support local businesses, you'll be able to see how you can start to compete with the big businesses.
We have 5 ways that your small business can compete with the big brands in our blog below. It's another way we want to help you start your business in 2022!
Why is it so hard to compete with big business?
You may think that the biggest hurdle to competing with the big brands is the marketing budget. They have the capacity to spend far more than you on advertising and branding and with such widespread advertising capacity, it means that more of the public recognise their brands, and often their jingles too. How are you supposed to compete against that?
We're glad you asked because it is possible to do this.
How can you compete with big business?
We have 5 tips to help you compete against big business and big brands. You can implement them yourself, however, we do encourage you to get help where you can from experts and business coaches to guide you. We understand that no singular business owner knows every single detail about business, especially when starting out, which is why outsourcing knowledge and getting support and training can help you focus your energies on what you do best.
1. Establish a strong digital & social media presence
This is arguably the most important of the 5 tips we have today for a small business to compete with big business. Social media is a great leveller. With the right targeting, keywords and content, you can have just as big an impact as some of the larger companies.
It's also likely that you've already had experience with social media as a consumer, so you know what content works and how.
As of April 2022, in Australia there are:
18,000,000 monthly active users on Facebook
17,500,000 active users on YouTube
10,000,000 Instagram users
6,500,000 active LinkedIn users
5,800,000 Twitter users
1,100,000 on TikTok
These numbers are just in Australia. For a deeper dive into how small business can power ahead with social media, read our ultimate social media playbook to see how you can leverage social media against the bigger players in your industry.
Another way to boost your digital signal is through SEO, or Search Engine Optimisation. It's the practice of raising your digital presence through the use of targeted keywords, content, backlinks and more on search engines such as Google. By using keywords that work with a user's search intent, and content that answers the search query, your website could appear higher on search result pages than even bigger competitors.
If you need any help in powering your website to better serve potential search queries from customers, a friend of ours at The Entourage, StudioHawk, offers monthly SEO packages for small businesses, beginning with a free SEO audit of your website and no lock-in contracts. Work with our team to discover how StudioHawk can provide this exclusive offer to your business today.
An example of a small brand going viral with great results is Blendtec. Do you remember a man in a white lab coat asking the question - Will it Blend? It was an intentionally low-budget program where this man in a lab coat would put random things into a blender to see if they would blend. This man was the actual CEO of Blendtec, Tom Dickson.
This was all in an effort to sell Blendtec blenders. You can imagine the costs of doing these simple little YouTube videos were quite minimal. Not only has Blendtec become a household name, their catchphrase, "Will it Blend?", has become as popular as 'Doh!' and other sayings. Their sales have boomed, and their brand reach is amazing, all through a small marketing budget.
With the power of platforms like TikTok, anyone has the ability to go viral, especially brands who come across as more authentic and human.
2. Work on your customer service
How often have you had to deal with a big business and its customer service team? Were you bounced around multiple people in a call centre? Or did you experience some impersonal service that stuck to a template and didn't make you feel as if your customer request was important?
A way you can be better than the big businesses is through your customer service. Make it personalised, be flexible and try your hardest to help solve customer issues.
Good customer service can gain you plenty of future customers. A problem that may cost you $100, can lead to a fantastic customer review, which leads to more customers, bringing in more than the $100 cost of solving a problem.
Realise that it's important that you give a positive customer experience especially if something goes wrong. How you solve the problem and appease the customer can say a lot about you and your business, and likely help bring a customer back to you again and again.
3. Understand your audience & pick your niche
Know who your best customers are.
While the idea of niching can be a little scary, marketing to fewer people but those who your product and service is especially targeted for, can yield a larger return long-term. You have a better chance of guaranteed sales from your target audience than the general public.
For example, we have a Member in one of our programs who understood their niche and owned that space. Jye Bohm co-founded Profinish Coatings in Victoria in 2016 which has since become one of Victoria's leading fire coating and protection companies. There is a limited number of ways to protect against fire, so you can understand the niche was small, meaning they were able to show specialised knowledge and expertise to a very specific customer.
Through the coaching and training he received in our Entourage Elevate Program, Jye was able to grow the business from $1.5 million to $20 million in revenue and increase the staff from 10 to 100 with our help. By helping him refine the way his business works, better understand the market, his best clients and how to speak to them, he is expecting this to grow even further in the coming years.
4. Improve your product
Never settle. Always look at ways you can improve. Look at what products and services you offer. Can you do better? Can you innovate your products to make them better? Can you streamline your production process to make the products better value for money? Are you able to combine products for a better rate?
Small businesses are much better equipped to do this, and much more agile. If a large business wants to change its product, or improve it, there are many steps and hoops to jump through.
Another factor in a small business' favour is that big businesses often aim at trying to cut costs to increase profits. This can often cut quality. A small business can pounce on this and make it a point of difference.
Have a look at some bath products. Big businesses might label their products as including organic ingredients and being hand-made, but do you believe them?
Then look at a small business hand-making soaps, such as Seed & Sprout. You know they have taken the time to make their products. It might cost a bit more, but you feel safer in the knowledge it is genuinely handmade and often better for the environment.
One way to improve your product is to listen to the people who use it. Have a quick survey for anyone who subscribes, or people who've purchased something from you, or include a feedback form on your website.
Directed feedback is good as well. If you want feedback on a specific feature in your product or service range, only ask questions about that. People want to give feedback, so prompt them in the direction you want.
5. Make the buying process easy and ask for feedback
This might seem like a no brainer, but you'd be surprised how convoluted some online stores make it to actually buy their product.
Make it simple to add something to a cart
Also, make it easier to add MORE to the cart as they're in a buying mood
Clearly state the payment methods you accept
Always offer a review of the order and a chance to change or cancel
Don't be pushy with this part of the sale
Once customers have decided to buy with you, making the process easy is a relief for them. If they have to jump through too many hoops, they'll put their credit card away or find products elsewhere. It's real easy to click and find another shop when you're online.
Big businesses have got this part of the sales funnel refined. And if you're a member of their store, you'll even get suggestions for purchases based on your buying history, making it even easier to spend money!
6. Partner up with other small businesses
There is power in numbers. Supporting other small businesses makes sense when you're starting out. If you can find businesses that align with yours, do packaged deals and offer referral rewards. You can give your customers a greater experience and help other businesses.
How can you do this? Social media and email can be the best channels. Through hashtags and sharing on database lists, you could engage your customers and those of the business you're partnering with.
Build a landing page with the product offering to monitor traffic for the deals. A social button taking customers directly there is a great idea.
Are there any examples of small businesses competing with big business?
An example of a small business competing with a big business would be Bookbinders Design, who are competing in the same retail space as Typo and Officeworks.
Officeworks has the advantage of having many outlets and getting discounts on products through volume while Typo spins itself as a quirky brand, but has the advantage of being under the Cotton:On umbrella, often offering cross-promotion with many Typo stores in shopping malls around Australia.
However, Bookbinders Design is a small Melbourne brand specialising in Swedish minimal and functional stationery. Their target audience is people who love stationery, writers and journallers, as well as artisans. They're also after those people who have hooked into the minimalist movement.
You can buy notepads and pens from both Officeworks and Typo, but will they have the style and vibe of something handmade with beautiful materials and the option to personalise your purchase?
Struggling to compete with big business?
A great way to get your business ready to compete, your mind and attitude ready to take it to the big leagues, is through business coaching and training. Our experienced coaches can help you determine who your best customers are, how to speak to them, and what to offer them for a different experience than the generic, big businesses they could purchase from.
Claim your free business coaching session today to discover more ways to grow your business and how you can compete with the big businesses today.
Join the movement.
Your Entourage journey starts here. Join Australia's largest community of over 500,000 business owners and entrepreneurs, and receive instant access to exclusive content and updates delivered straight to your inbox.