How To Increase Customers In Your Business In 2022
In today's market in 2022, there's a lot of uncertainty amongst both consumers and businesses with COVID-19 still affecting the way we live our lives.
This uncertainty of the next few months, weeks, or even 7 days, unfortunately, can bring a lot of volatility to the planned growth and sustainability of your business.
That's why we wanted to help you level up your digital presence in an area that the majority of Australian consumers are looking at, but many business owners aren't.
We've paired up with Podium, the #1 messaging platform powering Australian local businesses, to help teach you more about this under-utilised online tool that could be helping you win more customers over today, and into the future - reviews.
Will increasing your online reviews actually help you get found easier and secure more new customers in your business? And how do you actually go about increasing your online reviews to beat out your competition?
Read on to find out.
Why are good online reviews so important for businesses?
What do you think of when you see, let's say, a restaurant with 4.8 stars? What about a similarly priced restaurant in the same vicinity with 3.2 stars? Which one would you automatically think was 'better' or worth considering to eat at?
Naturally, most of us would gravitate towards that 4.8 star restaurant, especially if it had multiple, quality reviews from a range of people.
This is because a business's reviews help potential customers easily and quickly see if a business is worth their time. They're able to see if the business will meet their expectations based on the past experiences of existing customers.
In fact, according to Podium's A State Of Reviews 2021: Australia Edition survey, they found that reviews influence 84% of Australian consumers in discovering local businesses. And when consumers look at actually choosing a local business, their top factors include:
Location - 58%
Price or promotion - 55%
Reviews - 40%
Personal recommendation, or loyalty - 30%
As you can see, having high-quality reviews is a major factor for consumers, whether you're a restaurant, a clothing shop, a service-based business, consulting business, or something else entirely, people rely on reviews to see if it is worth their time in even making the decision to shop with you or not.
But consumers aren't just looking for 5-star ratings only! They're also looking at:
Quantity
Quality
Consistency
Relevancy
And diversity too
Now, what exactly does that mean for your business? If your business doesn't have any reviews yet, or any great reviews, then let us show you how to take your chance to separate from your competitors, and really stand out with your potential customers in 2022.
How to get more quality and consistent online reviews for your business
We'd all love to have a 5 star Google rating, right? But even some of the world's top businesses don't have 5 stars. So, what should you aim for?
According to Podium's report, 36% of Australian consumers require at least a 4-star average rating to even consider engaging with a business. So, a minimum of 4 stars is a good place to start aiming for in the beginning, especially if your reviews aren't currently in the best place they could be.
However, if you really want to beat out your competition and get as many customers as you possibly can to your business, you want to aim for a steady flow of high-quality reviews. What's the best way to do that?
Getting positive reviews
After a good experience with a business, consumers are 10% more likely to leave a review if there's a sign asking them to before they leave, and 18% more likely to if they receive an email inviting them to leave a review. But even better, 41% of consumers say they prefer text over email to communicate, so if you have their number, it might just be worth it to text them asking for a review after an interaction. In fact, this is what some of the leading Australian local businesses are doing right now!
This means that it's vital that you have systems in place to ask your consumers to review you, especially after you've just had an interaction with them. Whether it's from a recent purchase or a recent client call, make sure you have reminders set up automatically to ask them for that feedback.
Avoiding negative reviews
Asking your customers for feedback after interacting with them is important. But what's more important than just asking for a good review? Actually giving them a reason to give you that good review.
Did you know that 69% of consumers say that employee attitude is the top contributing factor to them leaving a 1-star review? And that 68% say that having a positive experience with employees is the leading factor to leaving a positive review?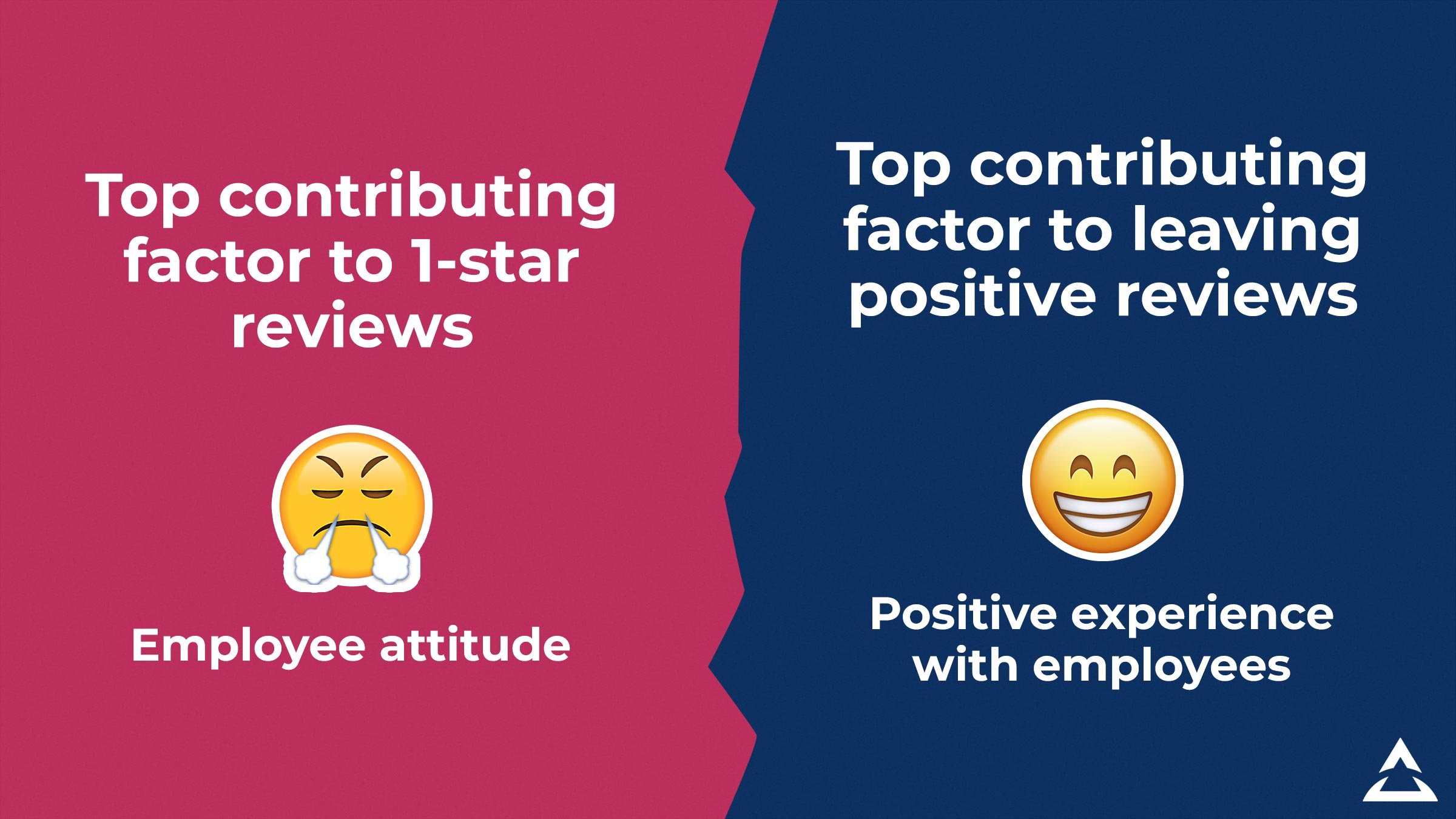 That means that when you start focusing on good customer service and experience at every single touchpoint, it will be the #1 determining factor to getting good reviews, especially if you're reminding them to do it!
BONUS: Responding to your reviews
Have you ever thought about responding to the reviews you get? A lot of us overlook this factor when it comes to customers choosing one business over another but think about how you would feel if you saw a business that had responded to every single review, good and bad. It would make you think that this business cares about its customer's feedback and it would give you insight into how they treat their customers too.

It also gives you a chance to not only reinforce the positive notes customers have said but maybe also change someone's mind from a negative review, whether it's the poster themselves or someone reading that negative review.

(See an example below - Source: Bored Panda)

Online reviews - the fundamental requirement to winning today's consumers
If you want to start competing at a level that actually speaks to customers on the platforms and channels they are actually looking at in 2022 to help your business grow, online reviews is one of the best ways to do that. In fact, as the market becomes increasingly competitive, it's one of the most fundamental requirements to winning over today's customers.
Thanks to the survey our partner Podium did with Australian consumers on the massive effect reviews have on their choice of business, you can start dominating your space in a way many businesses aren't utilising yet to take your business's growth to the next level this year, and beyond.
If you want to continue learning more ways on how you can speak to and win over more potential customers on the platforms they are actually on, check out more of what Podium does to help businesses like yours provide modern customer experiences that convert today.
Join the movement.
Your Entourage journey starts here. Join Australia's largest community of over 500,000 business owners and entrepreneurs, and receive instant access to exclusive content and updates delivered straight to your inbox.