What $735 million and 170 entrepreneurs in one room looks like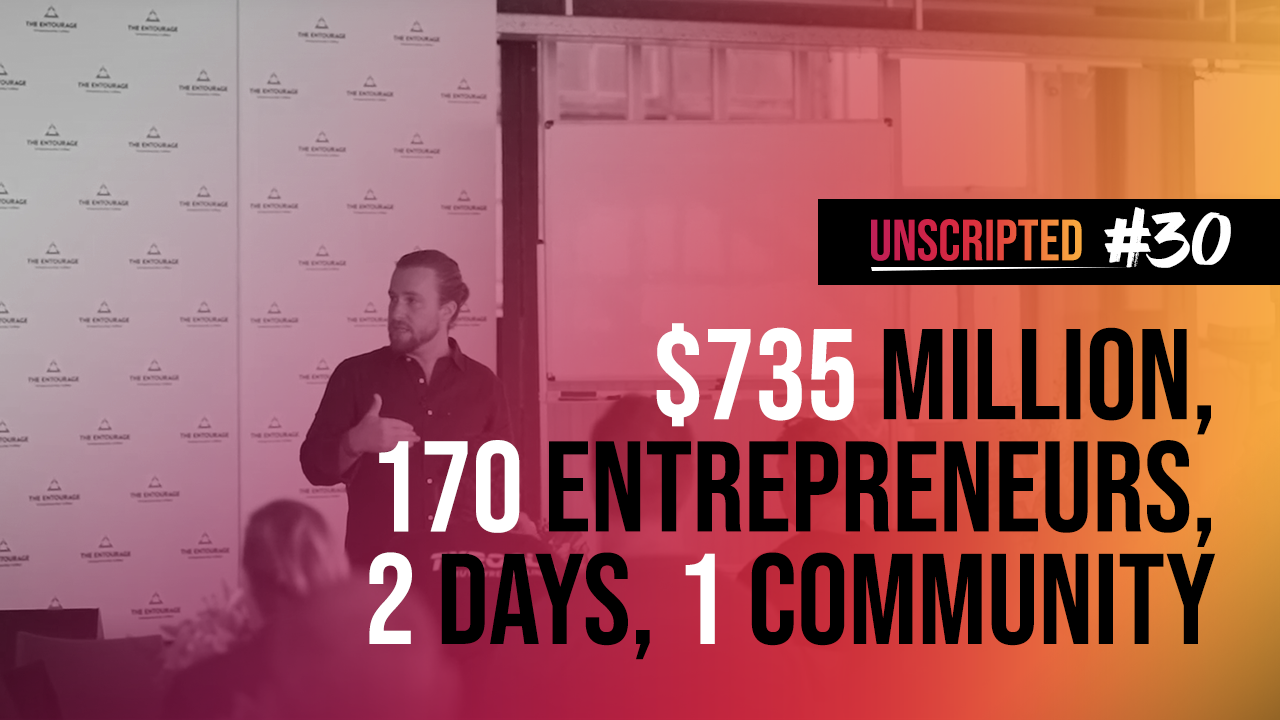 Over 12 months ago, the world was shut down.
And for a business like ours at The Entourage, where we're relied on for in-person events, workshops, and training for 6, 7, and 8-figure business owners in our community, that meant we had to take our entire delivery mode digital.
This turned out to benefit our members incredibly. It meant that their coaching and training could continue without leaving their home or office or traveling to Sydney to learn from our entourage of industry experts and leading entrepreneurs.
However, while the business coaching and training itself weren't interrupted, there was one missing piece in their program – the ability to connect in person with the other like-minded entrepreneurs in The Entourage community.
That's why our team at The Entourage put on The Entrepreneurs' Assembly – $735 million in annual revenue in one room. 170 entrepreneurs gathered on Sydney's Cockatoo Island. 2 massive days of invaluable learning and connecting. And 1 community exclusive to The Entourage.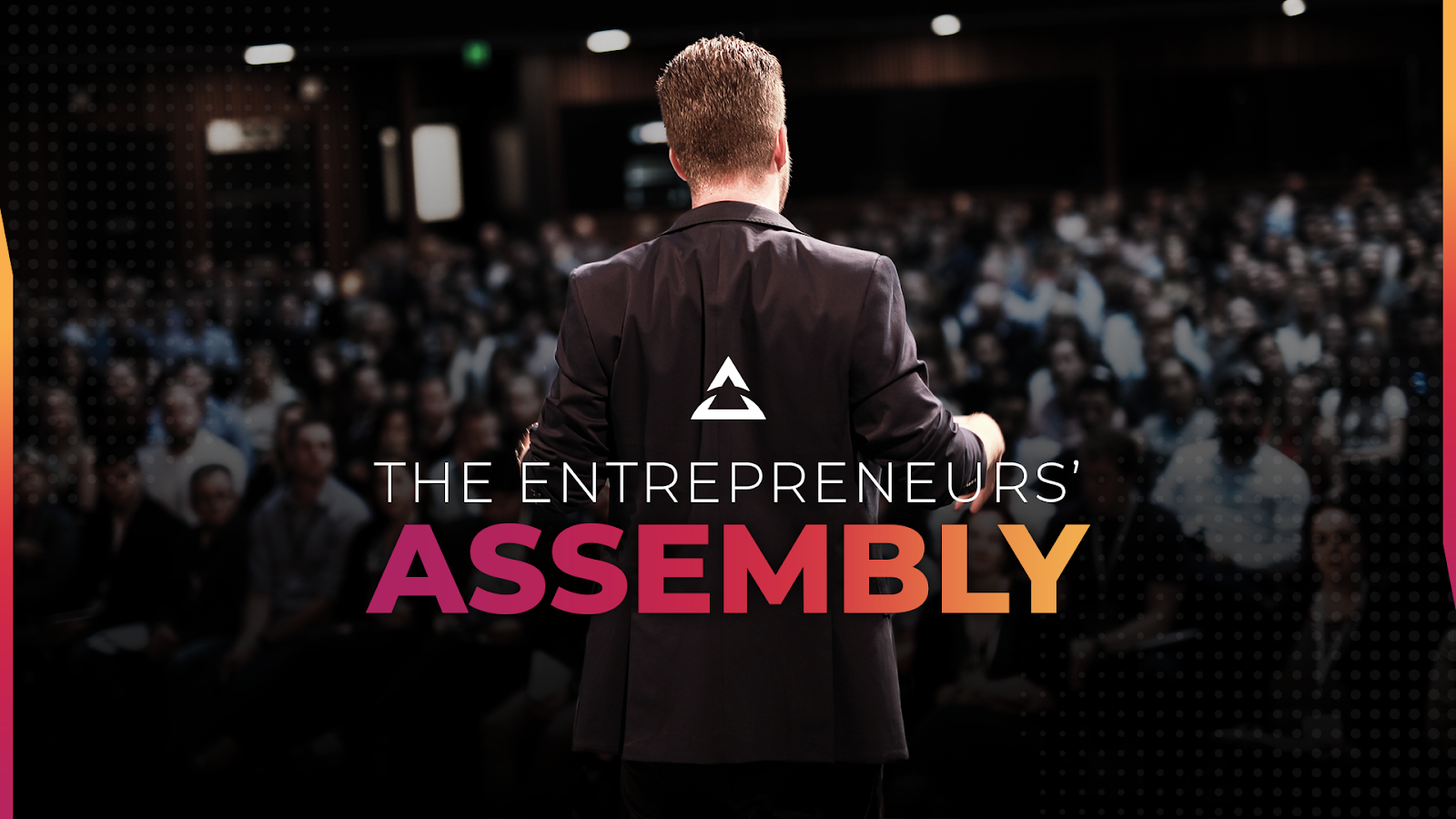 What The Entrepreneurs' Assembly is all about
The Entrepreneurs' Assembly, a newly formed, bi-annual event to give our members the chance to learn in person from the leading entrepreneurs in Australia as well as to connect and create some magic with the other like-minded business owners in our community.
The most recent Assembly, hosted on Cockatoo Island in Sydney, was an exclusive two-day island 'retreat' right on Sydney Harbour, featuring 170 of our Accelerate and Elevate members. Accelerate is our program exclusively for 6-figure businesses who are growing to 7-figures. And Elevate is our second program exclusively for 7- and 8-figure businesses that are scaling rapidly.
These are truly some of the best small to medium business owners in Australia and what our team at The Entourage covered at The Assembly only made them better. And that's exactly why we want to share the experience with you too through the newest episode of Unscripted!
Unscripted is the raw, authentic, unfiltered, behind-the-scenes of our Founder, Jack Delosa (5x AFR Young Rich Lister) in his entrepreneurial journey with us at The Entourage. In this episode of Unscripted (#30), filmed at The Entrepreneur's Assembly, you get the chance to come along the journey as we share the inspiring real-life entrepreneurial stories that have changed our Members' lives, as well as the conversations that some entrepreneurs are too afraid to have. No boundaries, no filters, no scripts. This is Unscripted.
Check out the full episode below.
The 3 biggest lessons from The Entrepreneur's Assembly
Throughout Unscripted Episode 30, we give you an inside view into what the leading entrepreneurs in Australia receive and learn to grow into multi-million dollar Founders and icons in their industries. These are the biggest lessons from each snippet of the two days we had on Cockatoo Island with Jack as well as some of our other revered guest speakers.
1. How entrepreneurs need to manage change in their business – Jack Delosa's session
For entrepreneurs, change and challenge is a constant. Whether it's a new competitor, people leaving, government regulation, it's constant. And sometimes those changes and challenges seem insurmountable. So, what's the key to overcoming these constants?
Build a great company.
How do you raise money? Build a great company. How do you sell your business? Build a great company. How do you navigate challenge when it comes? Build a great company!
Everything we do all the time is what will insulate you from challenge when it does arise. And that's the biggest thing we teach to our members in our 12-month programs. We give them the tools, the resources, the knowledge, and the expertise to build a great company that is sustainable, that is scalable, and that can work beyond them, especially in challenging times.
And by building a great company, that means you ingrain the right values, behaviours, beliefs, and creative culture in your team members, and especially your leadership team.
Our programs are designed to help our Accelerate and Elevate members move from technician (doing everything) to become the entrepreneur, the architect. If you're stuck doing all the 'do', you can lose touch with the heartbeat of the organisation, and there ends up being nobody leading the helm, nobody to build a great business.
That's why in Jack's sessions at The Assembly, he led our members in a recap of the past year and then into a visualisation session, helping them connect to where they will be by December 31st, 2022. The recap showed the difference in where The Entourage's members were during COVID-19 and 2020 compared to other entrepreneurs and business owners outside of our community during last year. See the chart below for the difference.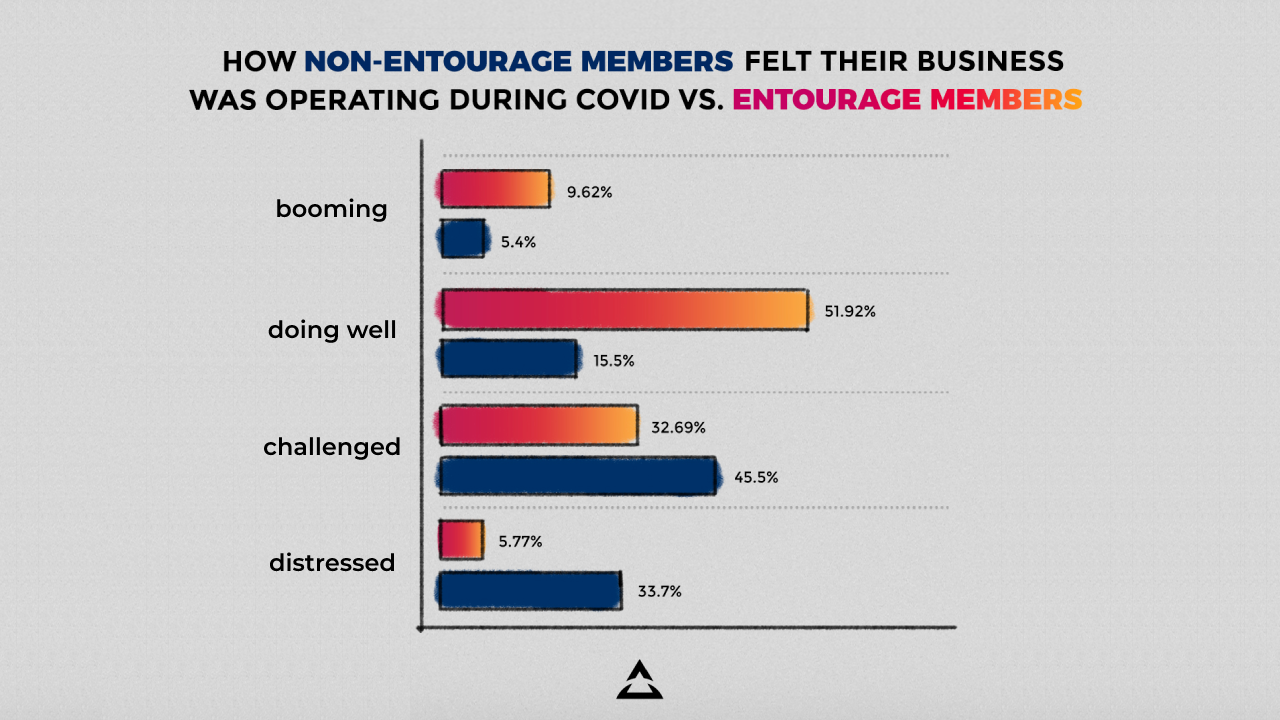 This helped them see how far they've come already, the incredible work they'd put into future-proof themselves, and really grow despite the challenges of the world last year. And through Jack's visualisation session, he was able to help them rediscover the strength and courage they've always had in them to overcome any current challenges they were and would face throughout the next year.
This is the key to everything we do at The Entourage – we help business owners and entrepreneurs build a great company.
2. How to most through Imposter Syndrome as a successful entrepreneur – Amanda Leigh Walker's session
Amanda Leigh Walker is an Australian icon in the plant-based movement. One of the co-founders of the largest vegan fast-food franchise in the southern hemisphere, Lord of the Fries, Amanda knows what it means to scale and grow to multi-millions of dollars in revenue and how to face and overcome the challenges many of our members at The Entourage face.
She did a LIVE session of our podcast, The Make It Happen Show, with Jack, discussing everything from growing her business from 1 food truck to 27 stores to breaking through plateaus as an 8-figure business to imposter syndrome – something many business owners face throughout their business journey.
These were her steps to overcoming imposter syndrome:
Witness the voice
Become aware of the voice and where it is coming from. Realise that it's not a part of you, it's not part of your identity, you're simply a witness to it.


Choose what you're going to believe
Decide who the driver is, is it you or the imposter? Remember, it isn't the real you. It's just a survival mechanism. So who are you going to believe?


Choose where you're going to give attention to instead
Are you going to get stuck inside of it or put your attention on something more productive instead, that's aligned with your actual goals?


Consistently practice practices of quietness and stillness
Meditation is so powerful. The more you practice it, the more it allows you to become more aware of the voice of the imposter when it comes up.
Write this down, put it up on a sticky note, and practice it. Whenever imposter syndrome makes an appearance in your business or personal life, think of these steps. These are some of the most powerful things you can do for yourself, and we are so grateful to Amanda for sharing her wisdom with us at The Entourage and our members on Cockatoo Island.
"I'm listening to many people tell me how happy their decision to be here is and to be part of the community like it's a life saver, life change, game changer for them." – Amanda Leigh Walker
You can listen to Amanda's full session on The Make It Happen Show right here.
3. Why every single business owner needs to grow their personal brand – Carlii Lyon's session
What do you think is the common denominator between businesses such as Virgin, Tesla, and The Huffington Post that make them stand out more than other leading businesses in the world? They are strong Founder-led brands.
Our team at The Entourage invited Carlii Lyon, Founder of Carlii Lyon Public Relations, and former personal publicist of Miranda Kerr (Victoria's Secret Angel), to The Assembly to bring some expertise to our members on how they can stand out just as Richard Branson, Elon Musk and Arianna Huffington do.
Because personal branding is not about bragging about your accomplishments. It's not about being a celebrity or influencer. It's about showcasing your talent, creative ideas, amazing story, insights, and experiences to the world. It's about stepping into who you are as a person and allowing others to see you fully, especially connected with your business.
Building a personal brand is how you can connect with your consumers, your clients, your team members, the media, and the world. It's what brings the human touch to the front of your business and its vision. So, how do you do it?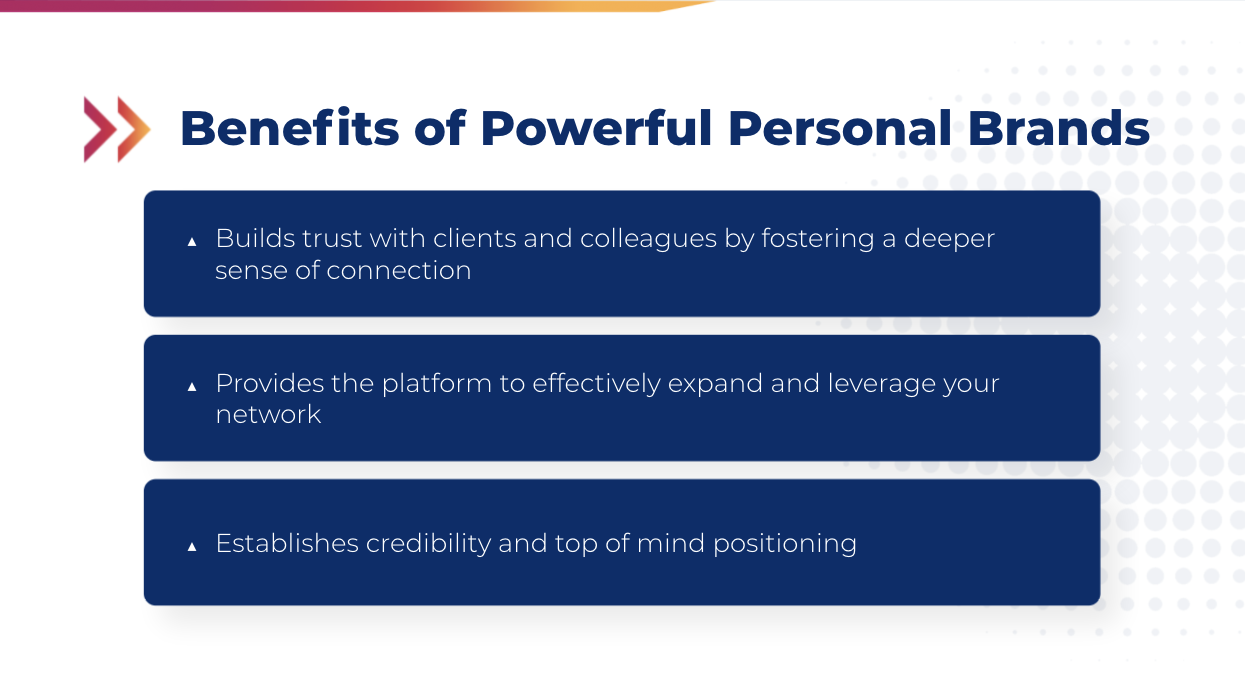 Realise that personal branding is not a short-term activity. It's a long-term mindset and not something that you just do once and finish forever. It's about allowing yourself to be seen and heard at every step along the way. And it's important to start from how you want to be perceived and work backward from that so that you're showing up today in ways that will get you to where you will be tomorrow.
That's how you articulate what your future self looks like.
(Don't forget to subscribe to our podcast The Make It Happen Show if you want to hear Carlii's session – coming out soon).
Wrap up of The Entrepreneurs' Assembly
These are just 3 of some of the many lessons and from the 2 massive days we had at The Entrepreneurs' Assembly where 170 entrepreneurs were able to architect and strategise the future of their business. This was an incredible event and our team at The Entourage cannot wait for our chance to do it all again with our Accelerate and Elevate members.
If you're an entrepreneur and business owner that wants to tap into their best business and personal self, this community is for you. Join us at the next Assembly. We can't wait to see you there.
Join the movement.
Your Entourage journey starts here. Join Australia's largest community of over 500,000 business owners and entrepreneurs, and receive instant access to exclusive content and updates delivered straight to your inbox.