What Is Business Continuity & Why Does It Matter?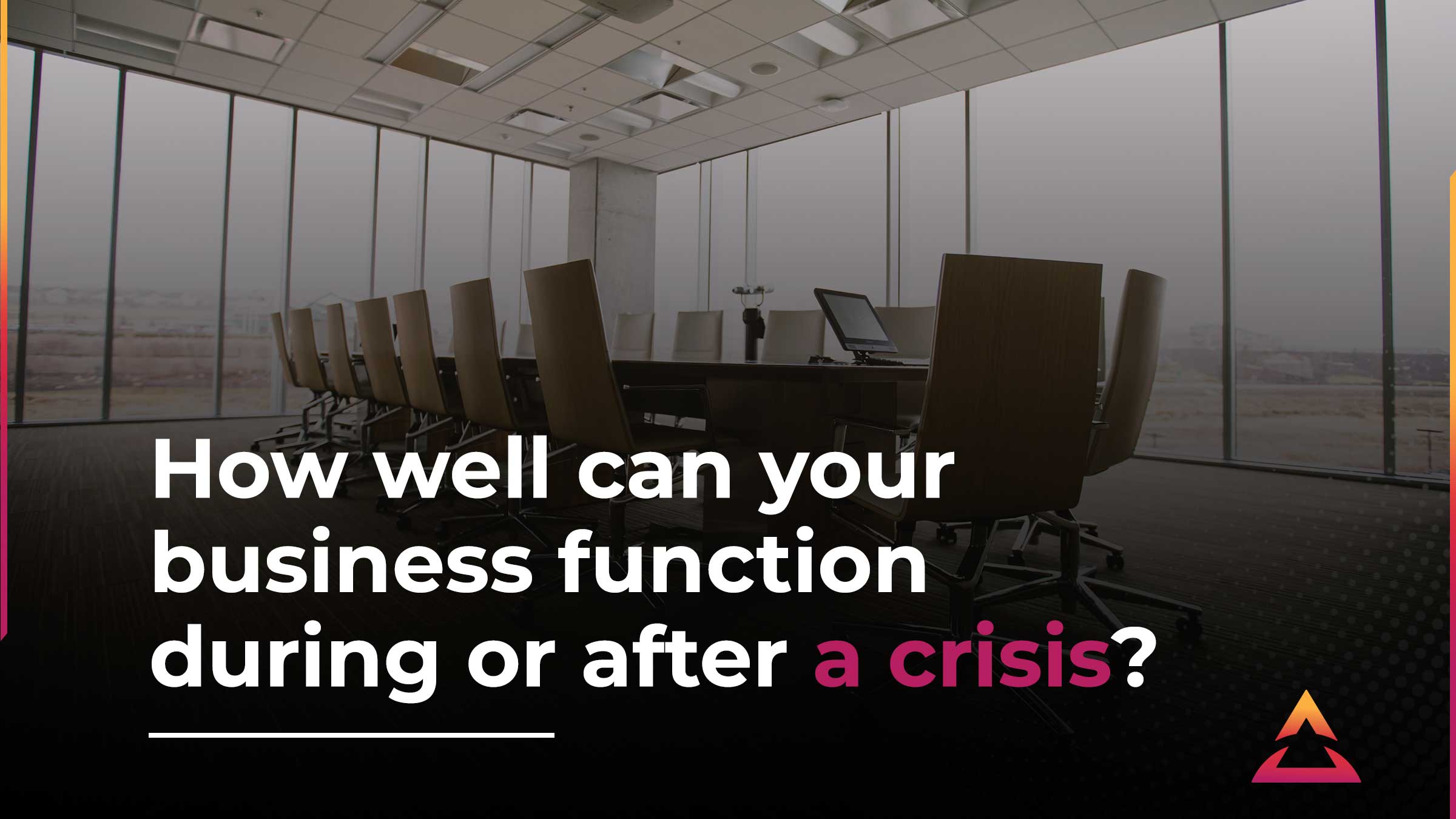 A lot has happened to the world in the past 2 years. The Covid-19 pandemic has reshaped the business landscape in many different ways. Businesses have had to react and pivot to fit a different client model, employees were forced to work from home, and sadly, some businesses did not survive, leaving many people in different industries without work.
This article is going to help you understand what business continuity is, and help you come up with a business continuity plan. That way, if the business world gets flipped again, you can have a better chance of your business surviving into the future.
This article is for the leaders out there, who will need to stand up and take control in a crisis, help your employees navigate the rough waters, and sail into the shining seas afterward. If you want to learn how to become THAT leader that can actually take your business and team to the next level, check out some of our training programs and leadership people skills programs.
What is business continuity?
Business continuity is essentially a business's ability to function during and after a crisis or a disaster. It's having a plan to handle risk management and to prevent mission-critical services from ending. A business continuity plan is a roadmap to re-establishing full functionality when the situation has passed.

In the lockdowns which have occurred, and the different levels of service available at certain stages of lockdown, businesses have adapted. Coffee shops switched to take-away only, many other businesses began selling only the essentials, such as bread and milk and eggs. Larger businesses changed tact and emphasised the fact they sold essentials, so they could stay open.
We saw a rise in click and collect or home delivery services, and a massive rise in online shopping. This put a strain on the postal service, which has had to adapt to fit in with this new way of shopping and doing business.

Why is business continuity important?
Business continuity plans are essential to prevent downtime in your business. Downtime means no revenue, and this can choke a company quickly. As mentioned, we had a pandemic, which forced downtime in many industries including entertainment and hospitality. Other sources of forced downtime outside of a pandemic could include events such as cyberattacks or extreme weather events, and natural disasters.
Business continuity is vital for any business to survive, and is done through understanding essential services, what the critical components of a business are, and how you maintain them during a crisis.
There may be legal or compliance reasons that your business must have a continuity plan. Essential services such as power companies, hospitals, and the like must have continuity plans for when things stop working.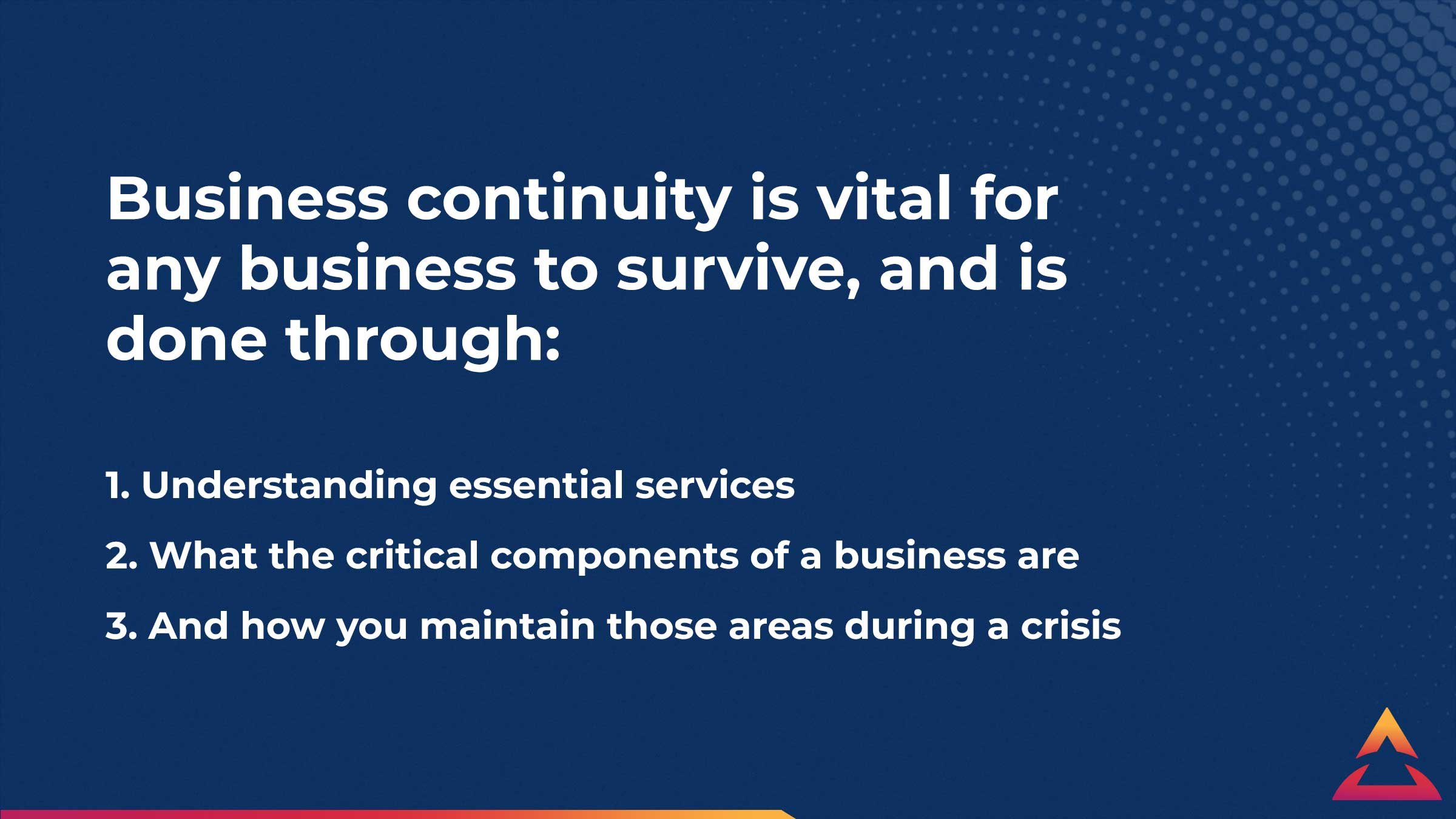 How to create a business continuity plan?
Generally, a business continuity plan consists of 6 key steps.
Identify the scope of the plan

- What parts of the business will the plan include? Will it encompass all facets of your business or just certain areas you deem vital? Is there a time frame for different-sized events?

Identify key business areas - Which areas of your business are most at risk? Which ones seem to be less at risk if something goes wrong?
Identify critical business functions - Which parts of your business, if they stopped working, would cripple you? Which parts of your business are more resilient? Do you have some functions which could be redundant?
What dependencies are there between different areas and functions of your business? - Is workflow going to choke if the internet goes down? Will you be able to pay your suppliers if there is a bank outage?
Determine agreeable downtime for each critical function - How long can specific processes be out of action before things become too much of a problem? A couple of hours is okay, but a couple of days?
Create a plan to maintain operations as best you can - What can you do in times of crisis? What contingencies are in place? What procedures do you have to inform your customers, or your employees, about what is going on and when things may return to normal?
Key components of a business continuity plan
There are three key components of a business continuity plan
Resilience
Designing procedures and structures that can survive disasters and interruption. This can include regular data backups and operating procedures without cloud servers. It can be staff timetables or other paper-based procedures to handle downtime.
Working out how to have backups like this can also improve efficiencies within your business, and you may discover better working practices.
Recovery
How quickly can you bounce back from a disaster or a long-term shutdown? Do you have a tight timeline for recovery? This can include how long to make a certain income level to determine if recovery has been met. Do you have a way to restock quickly once the downturn in trade has turned around?
Contingency
What happens if someone in your team is unavailable for a long time? Can you react and keep the business running? Alternate ways of operating with differing levels of capacity can strengthen your business. If you can maintain at half staff, imagine how much more you can do at full staff during the good times.
Other contingencies can include how to quickly get some temp staff to fill a breach, alternate places to work if your main office is affected, who do you call for damage assessment, can you get grants to help you survive?
What should a business continuity plan include?
In the above sections, we've talked about what things to consider, what elements need to be in your continuity plans. We want to give you some tips on what needs to be there, some concrete items if you will.
Emergency phone numbers - Who do you call? These numbers can be contacts for your staff. They can be phone numbers of suppliers, temp agencies, or more. This way, you don't rush around trying to find them. And having them as hard copies, in case the internet has crashed.
Staff roles - Allocate roles and responsibilities to staff members. This way, when something happens, everyone knows what they have to do. This can reduce arguments or disgruntled employees.
Lists - Lists of assets that will be required in certain situations, such as inventory lists, staff lists, and so on. It can help you know what is where saving time to find things in an emergency.
Contractual arrangements - With Covid-19 and lockdowns, some businesses had to lay off staff. Depending on the contractual arrangements, some staff were laid off with the promise of reemployment, and some were put on part-time work, and so on. If there is paperwork to cover continuity, then it can clear up any confusion when plans need to be implemented.
A timetable

- This can be in the form of if the business is affected for one week, this will happen. If the business is affected for 1 month, and so on. This can give scope to continuity and help the business prepare for long-term shut down if needed.
Key takeaways
It's always a good idea to test your contingency plan to see if it works. This way, when you truly need it, you'll be prepared and can move a lot smoother, saving time and money.
Whenever an outside force interrupts your business in a significant way, it can be challenging especially is always disturbing and upsetting. If you've poured your heart and soul into a business, just to see it falling down around you, it can be difficult.

Strong leadership is standing firm in the face of such a crisis. Strong leadership is having a plan and working through the bad times so you can survive. The Entourage teaches you about leadership. Hop onboard and grow yourself and your business.
If you want to take the next steps to learning how to bulletproof your business for any challenge that might come your way, get access to our FREE Bulletproof Business Course today. Taught by our Founder and 5x AFR Young Rich Lister, Jack Delosa, this course will take you through the exact steps to navigating adversity with your team, business and finances. Access the course today.
Join the movement.
Your Entourage journey starts here. Join Australia's largest community of over 500,000 business owners and entrepreneurs, and receive instant access to exclusive content and updates delivered straight to your inbox.