Why business networking is a powerful sales and marketing tool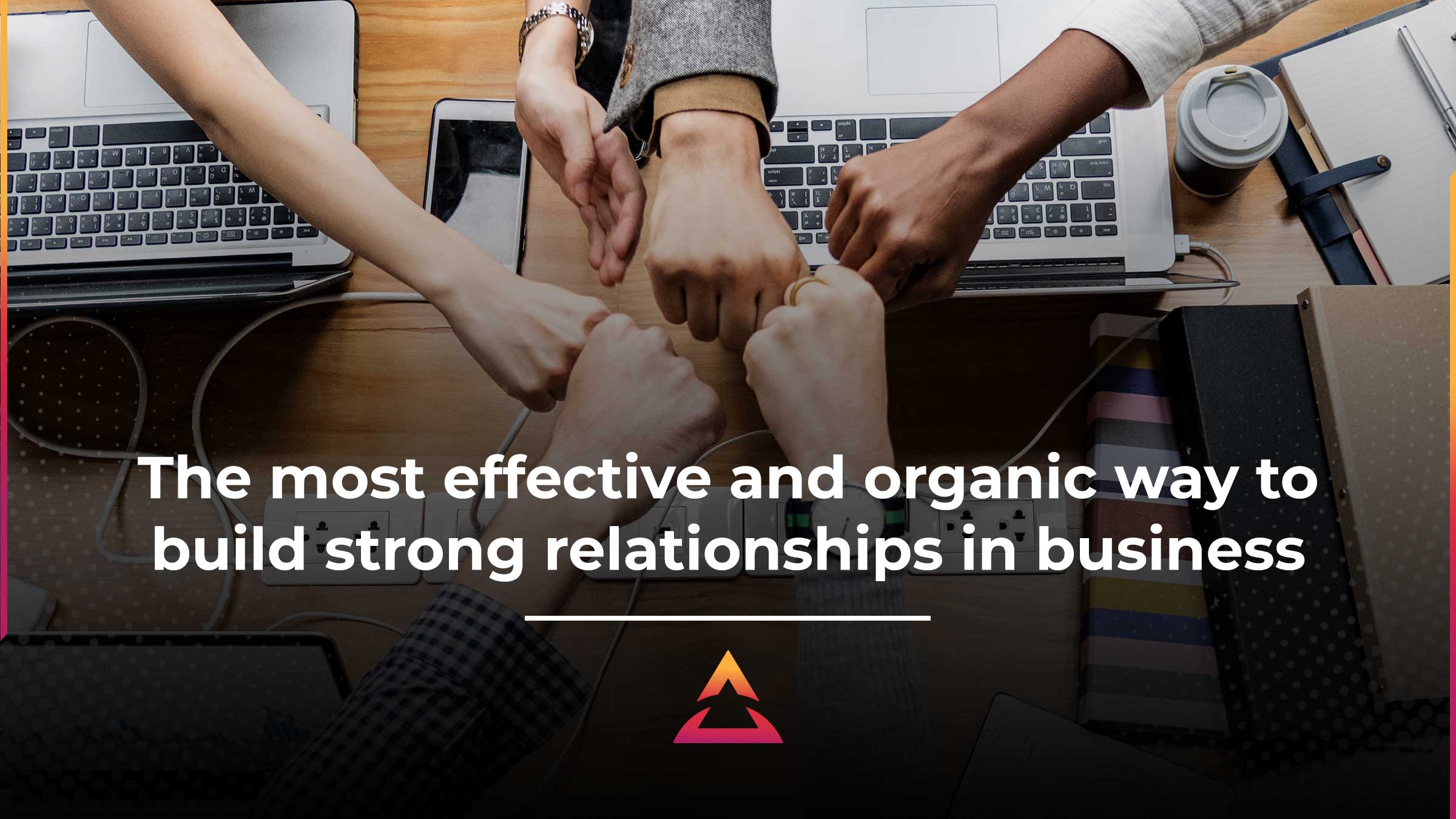 What is business networking?
Business networking is more than finger food and conversations on a weeknight with other people. It can be some of the best marketing you can do for yourself and your business. However, it can be tricky if you're not sure how to network or have more than a casual conversation with the person in the suit.
We can help you sell yourself, and your business with our Sales Training Course, which includes how to effectively work the room at business networking events, but let's give you some tips now to get you started.
How does networking help your business?
One of the strongest ways networking helps your business is by building relationships. In this age of being able to research competition with the click of a button, potential customers need to know you, like you, and then trust you, before they are willing to buy from you. And building relationships can lead to ongoing, profitable business opportunities.
This includes gaining access to a referral network. So many businesses rely on referred customers and by developing a relationship with other businesses or trusted people in the industry, you'll be able to start growing your number of referrals too. If you get a lot of business this way, your marketing budget could even shrink!
How to successfully network
There is not much point in going to networking events if you're not walking away feeling like you have succeeded. What does the definition of success mean to you in this regard? How many business cards? How many coffee catch-ups you've promised for the following week? Actually getting qualified leads?
Let's see how we can help you achieve success.
Instructions and what to say
Shake hands firmly but don't crush the hand.
Introduce yourself with your business.
Allow the other person to introduce themselves.
Maintain friendly eye contact.
Use your Elevator Pitch.
Find alignment.
Give value.
And stay connected.
What's an elevator pitch?
Imagine you're in an elevator going to the top floor of a tall building. Elon Musk also gets in, and he asks who you are and what you do? You have less than thirty seconds to sell yourself in such a way that he wants to know more.
The three-step elevator pitch formula is as follows:
Hello, my name is <name> from <company>
I help people with <problem> by <solution>
This benefits them by <reason>.
There are many more examples of elevator pitches out there. But this is a good start.
Who should you talk to?
Should you talk to everyone in the room? If it is a big event, then no. A small event, possibly. While you may not be able to help each person, you could be a help to their clients or even gain a wider network from that person's community.
Try and find first, the businesses that align with yours and with whom you can see business flowing back and forth. Do you have a plumbing business? Are there real estate people with homes where you could be the plumber for their rental properties?
Are you a photographer? Again, real estate people need home photography, landscapers need them too. Or how about offering everyone professional headshots for socials or websites?
Find someone you could help. There is a law of reciprocity that says that if you do a good deed for a person, they will feel obliged to return the good deed back to you. Use this theory when it comes to networking.
There is value in finding and making friends here as well. These are people who are in business, just like you and have that specific kind of insight that only business owners can have. It's good to speak with friends and family about business issues, sure, but business can feel like a lonely path that not many can understand.
That's why the people at these events are not just invaluable to your business, but also to you as the entrepreneur. These people have gone through the same challenges, successes, and journeys as you. They can relate, they can offer support in ways friends and family can't, they can teach you and give resources that would only benefit another business owner. This is the power of networking.
Tips to network effectively
How can you make the most of your networking time? Time is the most valuable commodity you have, and if you are spending it at networking events you want to use it effectively.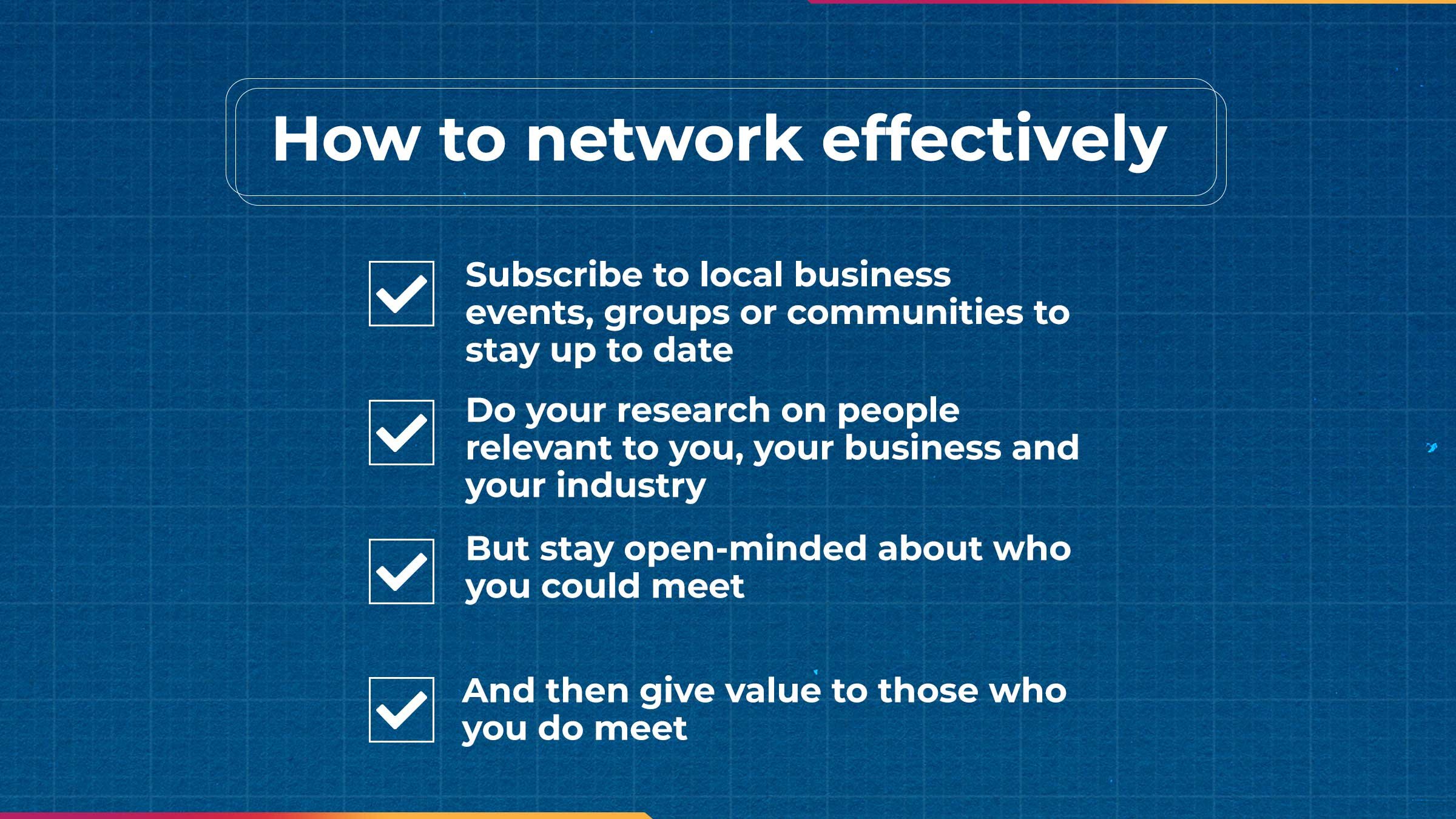 Look for the right people
As mentioned, figure out who you want to talk to beforehand.
If you go to an industry networking event can you effectively get sales from people in your industry? They could be handy for overflow work.
If you want to crack into a new industry, have a goal in mind about what industries you'd like to work with, and focus on those people to network with.
Can Meetup or Reddit help you find the people you want to work with?
Do some research or at least be prepared with a goal in mind of the types of opportunities that are available to you, and how you can offer value to others too. Remember, it's a give-and-take situation that requires both parties to give value.
Keep an eye on networking events
Subscribe to your local council business network or investigate small business groups on social media. These types of groups will advertise networking events for you to go to. There may be a cost, but you could get some great referral work through them.
Do you want to join a networking group? There are a few brand names out there that run regular groups for businesses. Check the prices out, figure out the time commitment and decide if they're right for you.
Joining up with a business coaching and training community, like what we do at The Entourage, can also connect you to other like-minded business owners. The best part about joining a coaching network like ours, the people you meet have made that decision to take their business higher, they are motivated to learn and grow, and can motivate you too.
We often hold events for the public, such as the upcoming Unconvention event. You'll get access to some of Australia's leading entrepreneurs including Lorna Jane Clarkson (Lorna Jane), Larry Diamond (Zip Pay), Simon Griffiths (Who Gives A Crap), Samantha Wills (Samantha Wills Jewellery), and Jack Delosa, learn from their multi-million (and billion) dollar strategies and network with hundreds of other growing small to medium business owners.
Use resources and get referrals
You will be given a lot of business cards, be brutal with the ones you keep.
Use these people to refer work to, use them as a knowledge base to help you. Again, the law of reciprocity should have work coming back to you through your referrals.
You must show your VALUE to your referral network. Do a good job if someone sends you a client. The word-of-mouth marketing from that is priceless.
What can you expect to gain from networking?
There is always something you will gain from networking. If it's just free finger food and a chance to chat to people, that's one thing. There are so many more valuable things you can get from networking, however.
New knowledge
Understanding how other businesses operate, how other people get through the day as a business operator. It can give you some much-needed perspective and drive. They could even have resources that you're not aware of or don't have access to. This is invaluable when learning how to continue to grow your business.
More confidence
The more you introduce yourself to strangers, the more you deliver your elevator speech, the more confidence you will gain for selling yourself. You will refine your elevator speech, change it to focus on different industries and products.
Your marketing and sales skills will skyrocket, just by networking and talking to people in business.
Learn what other businesses are doing right or wrong
It can be competitor research, but by talking to other people in business, rather than just your friends and family, you will gain actual insight into the world of business.
Did someone lose money on Google Ads? How come? Why? Has someone got a great way to nail Facebook Marketing? Awesome. Copy the best and do it better.
Raise your profile
The more you get out in front of people in the business community, the wider your business network and opportunities will be, and the higher chance for you and your story to get more recognition in the community when providing continuous value to that community first.
Gain a new perspective
Being in business can be lonely. If it's just you on the tools, you don't get to meet other business people that often. Networking can help you understand that you're not alone. The business world is more like a sea of storms, and sometimes bonding together, in a raft, is the only way to weather the storms.
Key takeaways
Networking is good business for your business. It is sales and marketing at a personal level. The more you do it, the more it will work for you. Word of mouth marketing and referrals from your networks are great. To be sent a client from someone in your network group costs you $0 in marketing. That's the best kind of marketing spend.
Know who you are, know who you want to work with, your ideal business clients, and go out and meet them. It can be scary for first-timers, but there are more friendly business owners out there than sharks. And we can help you gain confidence in your sales.
If you have been looking for a community of like-minded entrepreneurs and business owners, then look no further. The Entourage is Australia's leading trainer and community for business owners with hundreds of members and a wider community of 500,000+, we are the community for you. See how we help the business owners of Australia, and the rest of the world, take their businesses to the next level through our business coaching programs here.
Join the movement.
Your Entourage journey starts here. Join Australia's largest community of over 500,000 business owners and entrepreneurs, and receive instant access to exclusive content and updates delivered straight to your inbox.