#1 Business Coach in Geelong
"We grew from $1M to $16M in 3 years"
Sunil Kumar, Reliance Real Estate
The Entourage has

coached 3500+ businesses across more than

150 industries
Our business coaching and training has generated

$2 billion

in revenue for our Members
You'll join a global community of

500,000+

entrepreneurs and business owners
What can a business coach in Geelong do for you?
Geelong business owners, welcome home
Business isn't just about working harder, it's all about working smarter. Building a business requires skill, and it's one we've been teaching entrepreneurs across Australia and the world.
Since 2010, we have been Australia's leading trainer and community for entrepreneurs and business owners just like you. We've empowered thousands of entrepreneurs not only across Geelong, but also across Adelaide, Brisbane, Sydney, Perth and Melbourne to take their businesses to the next level.
With a pool of experts and business coaches, we will tackle the six pillars of your business — Marketing, Sales, Product, Operations, Finance, and People.
Our experienced business coaches will make sure they have your best interest at heart, creating a roadmap for your next best steps and applying strategies that can gauge where you are now and where you will be in the future. For those who want to build the business of their dreams with experts at your disposal, this is that opportunity for you to take the next big leap towards success with The Entourage.
Businesses we have
coached
Our members come from all industries and business sizes, reflecting the community within New South Wales and Australia.
With Members ranging from hospitality and real estate, to fitness and construction, we've had the pleasure of coaching and leading thousands of entrepreneurs on their business journey over the past 12 years.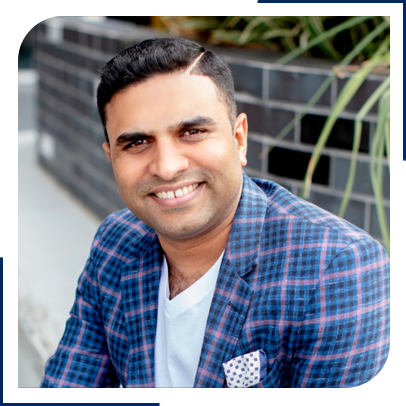 SUNIL KUMAR
Sunil formed Reliance Real Estate in 2011, with the support of one other business partner. Reliance started out in a period of decline in the real estate market not only in Melbourne, where Reliance was formed, but across the country. The first few years of business for Sunil were a struggle. At times, it was difficult to pay the bills, and Sunil even considered throwing it all in and going back to a safe and steady job.
Even when the business was going well, Sunil recognised that he wasn't receiving enough support to take Reliance to the next level. Sunil was stuck in technician mode, and not spending nearly enough time on managing and winning new clients, and building Reliance's brand. He was spending far too much time working in the business, not on the business.
Sunil joined The Entourage's Elevate Program in 2014. After a few months of working with The Entourage, Sunil had a clear 12 month plan for the business, with quarterly focuses. Prior to this, Sunil was doing anything and everything, and not leveraging his true talents as a leader and entrepreneur. Having a team of advisors helped Sunil focus on what would drive real growth for Reliance, and how to best hit those goals. This helped empower Sunil to step out of the day-to-day management of the business and transition from technician and manager, to leader and entrepreneur.
What kind of business training do we provide for Geelong business owners?
We've been helping over 3500 businesses across 150 industries for the past 12 years, and there is more than enough experience under our belt to be able to take on any challenge.
In order for you to grow your business to 8-figures and beyond, our business coaching programs focus on the six pillars of business — Marketing, Sales, Finance, People & Leadership, Operations, and Product.
As our programs are tailored to your business's specific stage of business, we have three key programs for each stage of small to medium business. Elevate is our key program for 7 and 8-figure business owners. Accelerate is exclusive to 6-figure business owners wanting to scale to 7-figures.
What makes our training different from other Geelong business coaches?
There are two main things that differentiate our business coaching from mentorship and coaching you may have experienced in Geelong previously.
Firstly, we stress the importance of learning from experts with been-there-done-that experience. Simply put, as much as you believe you know your business, one person cannot know everything there is to know about building a successful and profitable business. That's why at The Entourage, you'll get the opportunity to surround yourself with a whole entourage of business coaches, advisors, and experts who are all personally invested in your growth and continued success.
Secondly, we have built and developed our programs for entrepreneurs for the past decade. We offer real-world results based on our expertise and the knowledge and experience we've acquired over the past 12 years in the business.
Our Members' results speak for themselves with our training helping generate over $2 billion for the Australian business owners in our community.

Our online business courses give you direct access to the world's best entrepreneurs and experts to help you run and grow a profitable business. Suitable for earlier stage businesses that need help taking the first few steps to success.
Short Courses

Our key coaching program exclusively made for 7 and 8-figure business owners. Elevate focuses on helping the Founder step out of their business, gain freedom, and see their vision truly come to life.
Elevate

Our coaching program exclusively made for business owners who want to accelerate their growth from 6 to 7 figures. Focused on teaching you the skills and knowledge you need to start elevating yourself into a leadership role in your business.
Accelerate
Discover your best next steps for building the business you've always wanted with a 30-minute free call.
Gain full clarity on the core growth opportunities and most pressing challenges facing you and your business.
Connect with Australia's leading business coaching and training provider for 6, 7, and 8-figure founders.
Walk away with a roadmap to elevate your business to the next level.
Frequently Asked Questions
Are your business coaches based in Geelong?
Are your training programs suitable for all businesses in Geelong?
Will this actually work for me and my business?
How credible are your business coaches?