At The Entourage, we're all for helping you grow your business, to shift the decimal point on your bottom line to the right. A big part of this process is through sales. If you want to dive straight into learning how to increase your sales today by learning from one of Australia's leading sales experts, we have an awesome short training course all about increasing your sales which you can join today.
Getting leads, warming them up, asking for referrals - these are all part of a process called Sales Prospecting. To do this successfully, you need a plan and you need to know how you can identify a sales prospect as well as what techniques you can use to turn these prospects into conversions.
If talking to leads and converting them to clients is a little scary, we can help with our FREE high converting sales script template that you can follow.
We're going to show you how you can go from start to finish in identifying, qualifying, and then closing a sale through different sales prospecting methods.
What is sales prospecting?
Prospecting is when you go in search of something. Gold prospecting is when someone is searching for gold. Sales prospecting is where you're searching for customers.
Much like when you're panning for gold in a river, you throw out the grit and the stones so you're only left with the nuggets of gold. So too, with sales prospecting. You go through various stages of prospecting, and hopefully, you'll be left with people who are ready to buy from you, your nuggets of customer gold.
The better you are at the process the easier it will be for you going forward.
A reminder that it is easier to sell to current clients than it is to get new clients. This means you do the work now so the nuggets of gold you find will stay with you for the long term.
Why is sales prospecting important?
Unlike the famous quote about building it and they will come, for the best results on sales, you need to go find your people. People will rarely find you magically. You can have walk-in traffic if you have a brick-and-mortar store in a busy traffic location, or you could be receiving some organic reach online with a good SEO strategy, but it's important that as a salesperson or a business owner doing the sales (or teaching it to your team members), you need to go find your customers too. Marketing will get you a good distance of the way, and you can see how we teach marketing to our 6, 7 and 8-figure members, but any good salesperson (and you are one as a business owner) will go out to find customers too.
Another reason why prospecting is important is getting your name and your brand out into the wider community. This could be the community of consumers, or it could be the business community. You could become the face of your business, an expert in your field, the person others go to for advice.
Again, a reminder that there is a strong link between marketing and sales. Often the better your marketing, the better your sales, naturally. This is not to say that having great a sales team can't help and all the marketing in the world won't help you if your sales team, or you yourself, can't close the deal once the lead comes through. Not sure how to build a scalable and effective sales strategy that you can pass onto your team members? Check out our blog on the 5 tips to building a scalable sales strategy.
Being able to close deals with an effective sales strategy that is scalable is most important if you're a small business. Show your expertise and talent in your conversation with them and share your knowledge about your specialised products or services. People will remember you and refer others to you if you follow the steps we list in this blog and our other sales training courses at The Entourage.
Referral business is also incredibly powerful, and we'll discuss it shortly. And to help you with prospecting, download our free sales prospecting template to help you convert your prospects better.
Outbound and inbound prospecting, what is the difference?
Outbound and inbound prospecting are a little similar to cold and warm calling.
Outbound prospecting
Outbound prospecting is when you contact leads who haven't found you yet or shown much interest in you yet. They have potential, but you need to work with them a little more to warm them up to what you're proposing.
You can find these potentials online through social media groups or business cards you may have picked up through networking events. We'll dive deeper into how you can find more prospects this way in the next section of this blog.
Outbound prospecting can also be considered as following up on leads. You met someone at a networking event, talked shop and you discovered their business or their personal life is in need of what you have. You swapped business cards and scheduled a time to call back for a more detailed conversation.
This conversation is where you get into some specifics about your products and services, how they will help, and how much things will cost. This is the sales call.
Inbound prospecting
These prospects have shown an interest in you. They've emailed you, or visited your website and filled in a contact form, or perhaps they've called and left a voicemail. They're already warm to the idea of what you're selling.
Now you need to have a conversation, not through social media or emails, but a phone call or a face-to-face conversation. Because there is interest there, you don't have to fully explain what your products and services are, it is more a conversation about how you can HELP them achieve their goals with your product or service.
These prospects have shown an interest in you. They are calling you to get a quote or find out the costs. The marketing has already been done, now you need to sell them on how your product or service is better than the competition.
Will your sales technique involve a discount? Free postage over a certain dollar amount? Do you offer same-day service? A guarantee of service? Refunds perhaps? What will help get the sale over the line when customers call you?
Sales prospecting techniques
There are many ways you can go about prospecting for leads and customers. The more you do the better you'll get, but if you're not comfortable with some yet, then focus on where you feel most confident first.
Ask for referrals
If you have some customers who have been with you for a while and are very happy with what you do, ask them if they know anyone who could benefit from your products and services as well. To incentivise this, you could give these people a referral reward, a gift, or even a discount on their service.

The great thing about this method is you're dealing with people you already have a good relationship with, and then they go out to do the work for you in getting a new lead.

This new lead will arrive warmed up from the great sales pitch your current customer has given them because it is human nature to heap praise upon you to someone else.
Networking events
This is what we mentioned above. Networking gets your face in front of people. It allows you to speak about what it is that you do.

If you're in a niche industry sometimes it's better to explain what you do face-to-face, rather than hope someone stumbles upon your business.

Networking events also allow you to build relationships with people who are also in business and have client lists. The power in those rooms are the customers who are BEHIND the people you're talking to.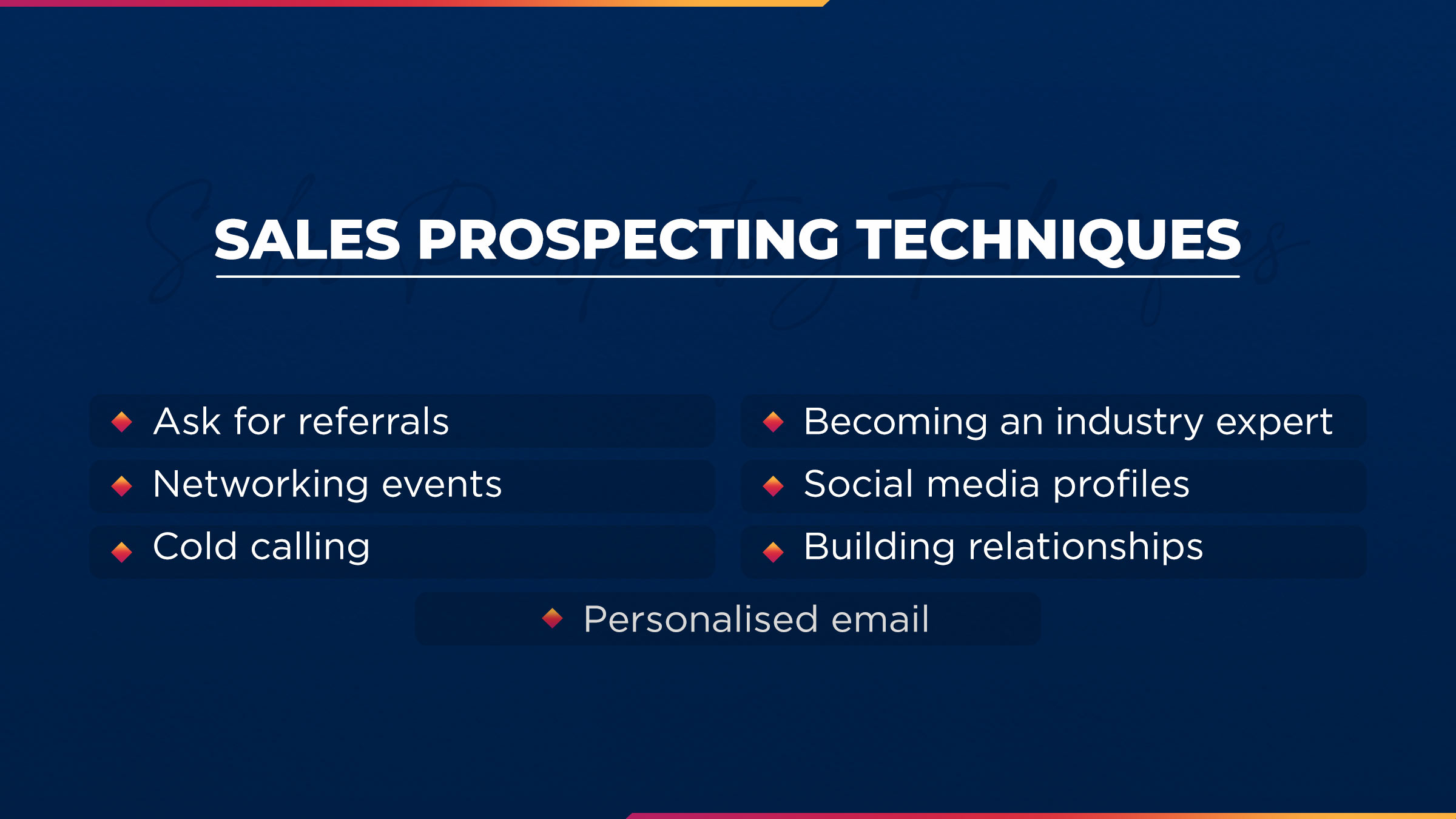 Cold calling
A tricky one, but you can get a list of phone numbers, or go through an industry list of numbers, and cold call potential prospects. Don't be offended if people shut you down or hang up on you. More often than not you'd do the same thing.

Cold calling can be tough.
Become an expert in your field
Becoming an expert in your field is often considered a marketing technique, and it is. However, using your knowledge of your area of expertise, when you're networking with people, or talking to someone on the phone, and you're in sales mode, your knowledge is key.

You can adjust your pitch, flip the script, solve crazy problems that may arise, just because you know everything there is to know. You don't need to mention any dollar figures. Just talking about how your product and service can help fill the gap your prospect has with confidence can be the best sales pitch you have.

By using your expertise, you can confidently talk about your product or service, give prices, discounts, and other sale techniques, without having to reference materials, or get back to someone later. You can strike the lead while the lead is hot, metaphorically, of course.
Social profiles
You can join groups on social media where people are asking for help - community pages, for example, or business groups which are much like networking groups. People put it out there- who can help me with the problem you solve? And then you step up, make a sales pitch, link to your website, ask to follow up with a phone call, and activate your sales script.
This method fits hand in hand with the marketing idea of showing your expertise through helping people and giving advice. If your profile is good enough, when you pitch with the sales, then people will know you, which is the first step for people to buy from you.
Aim to build relationships, not to sell
In the world of marketing and sales, people need to know you, like you, and then trust you before they will spend good money with you. These three words are all aspects of relationships, not sales.

More can come from relationships than just sales. Referral business, help when you need it, loyalty to your brand. It can be hard to quantify how valuable a relationship is to your business, but you know that they work.
Personalised emails
Prospecting through emails is something you can do to service your members and email list.
Often if you sign up to an online store they will send you emails telling you of their latest sales or new products in-store. You can even be sent email-exclusive discount codes.
Further to this, if you have records of what your customers buy, you could even customise emails to sell them like products, or inform them if they need to update their supply or buy a new version of what they have bought before.
In your sales team, you could utilise emails as well to reach out directly as you to a specific list of customers. Customers who are warm, ready to take a call with you, or simply make the purchase.
The more personalised the emails are to each customer's shopping profile and how warm they are to you, and the closer to your brand voice each email is, then the higher the chance of a click-through from the email, to your site and to the shopping cart.
Commitment is the key for sales prospecting
This method for drumming up business isn't something you do for a while and then stop. It is an ongoing process in which you need to invest in, both time and money. It is something that pays off in the long term, and once it starts working for you, momentum will keep it going, with a nudge from you from time to time of course.
Need more expert advice on how to convert leads into customers? This is the #1 way to start converting them into customers in a way that's authentic and valuable.
Key takeaways
Going digging for leads and prospecting for sales is something that can be done in a variety of ways. Often the best way to prospect for sales is to not sell anything at all. Help people, answer their questions, build relationships, and the sales will come.
Sales are important, we all know this. And investing in your ability to sell yourself and your business is one of the best things you can do for your business. That's why we have the perfect short course to help you succeed in sales - 22 Strategies to Increase Your Sales - and help your business grow to the next level. Access our short course below today.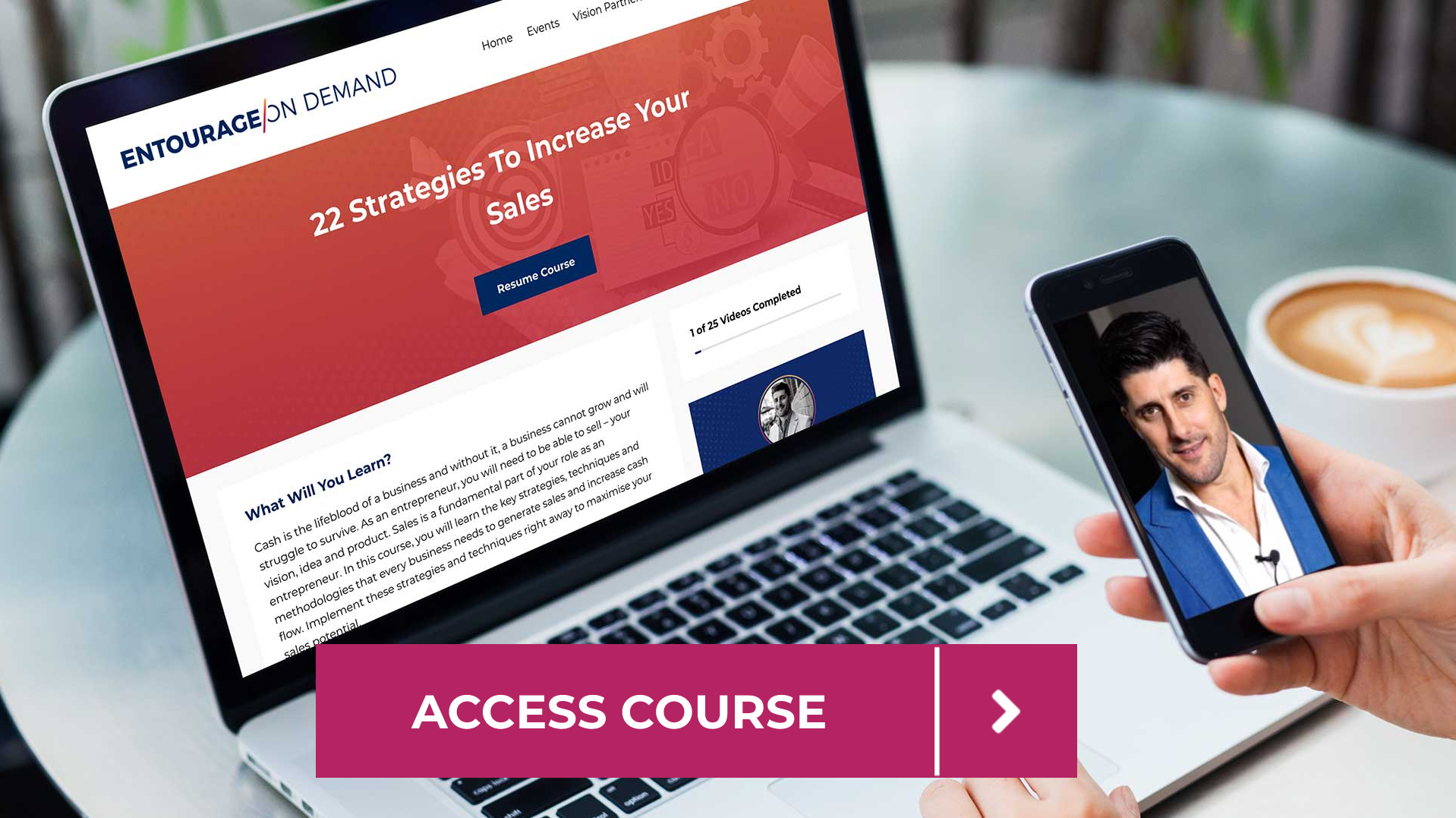 Related Posts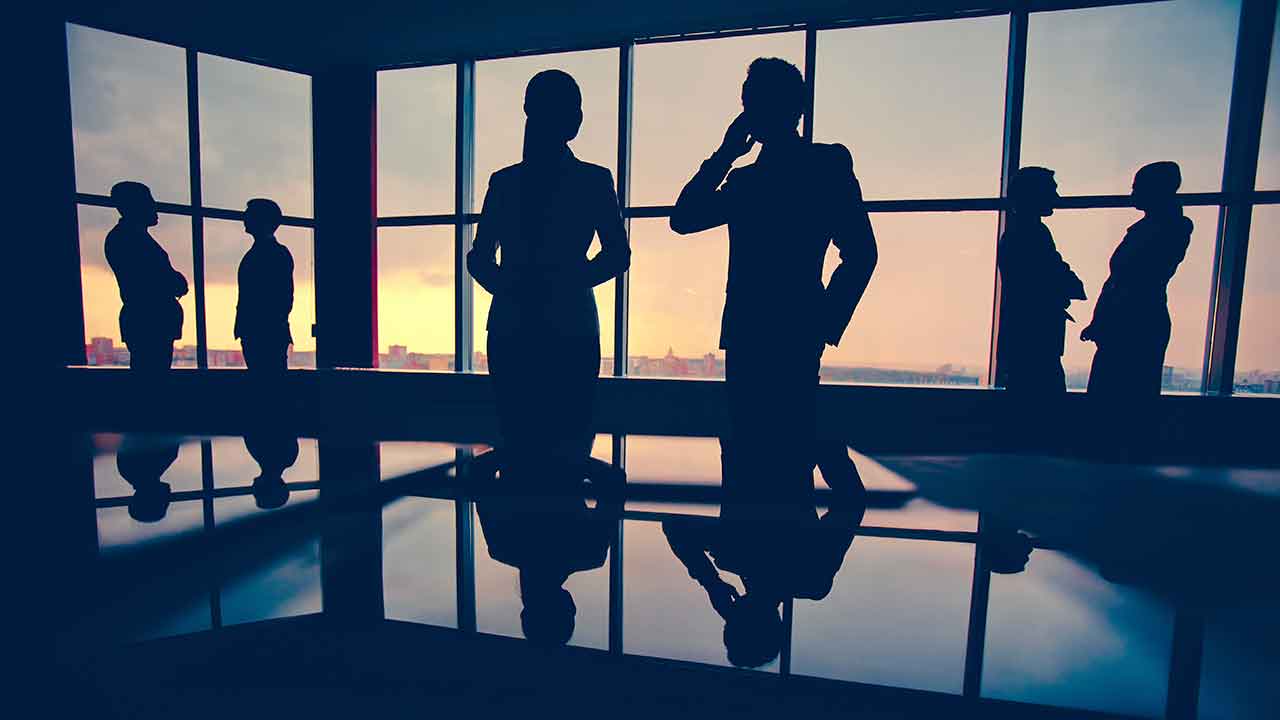 by Jack Delosa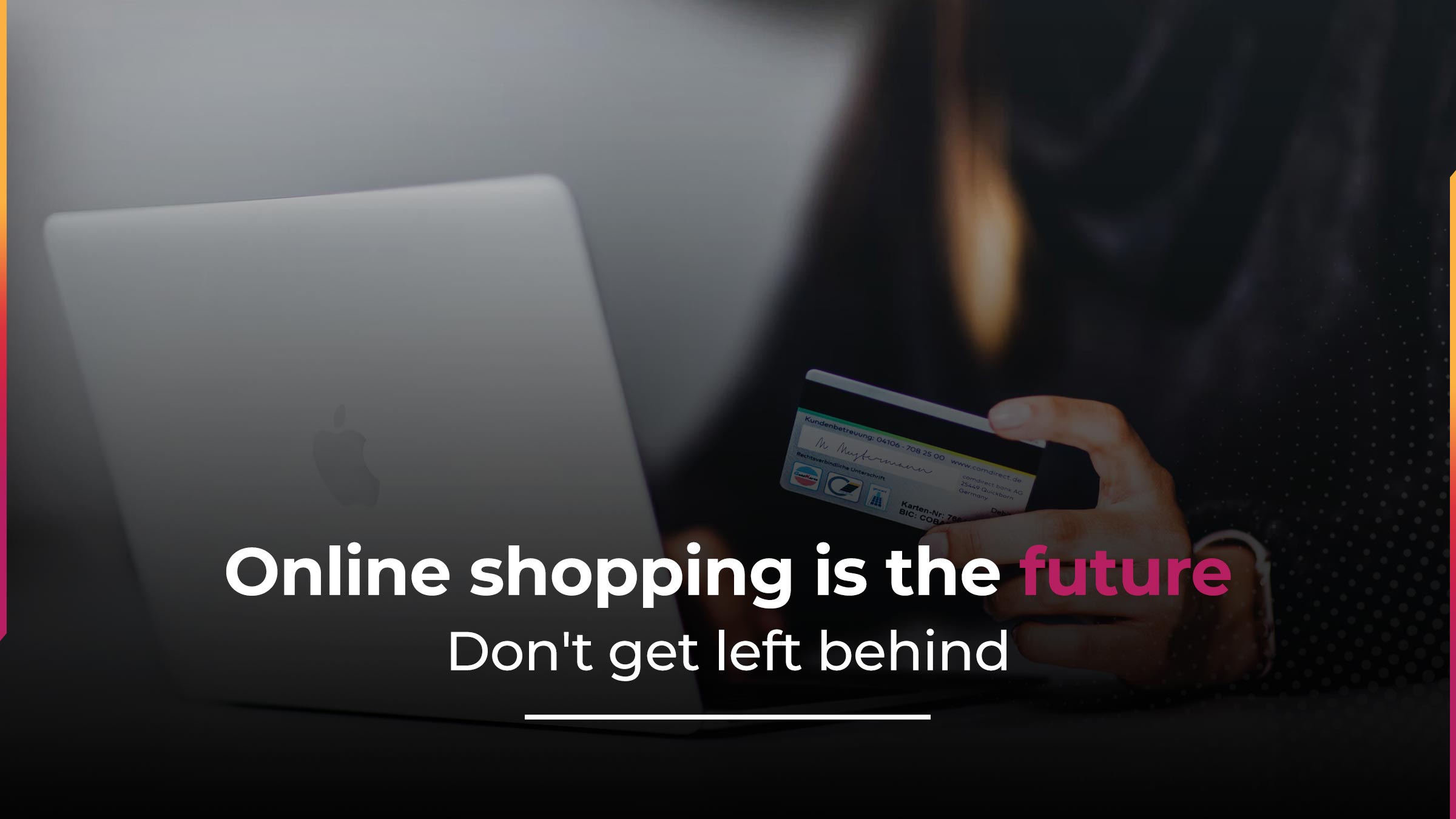 by Ryan Terrey
Join the movement.
Your Entourage journey starts here. Join Australia's largest community of over 500,000 business owners and entrepreneurs, and receive instant access to exclusive content and updates delivered straight to your inbox.