How to budget when you're a small or new business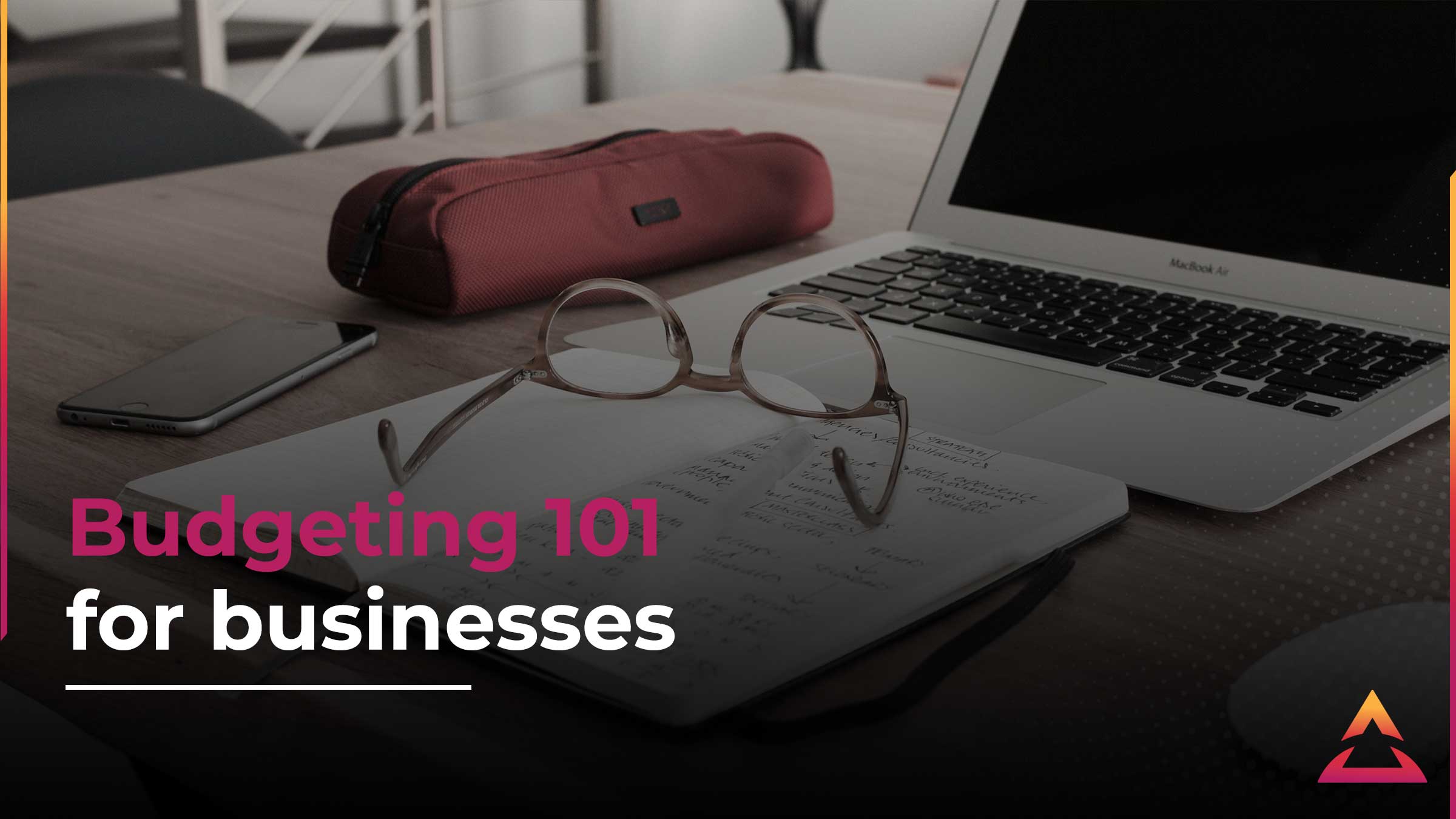 Budgeting for a small or new business
Your business can have the best product in the world, but without strong and clear money management, your business will falter. However, money doesn't have to be scary! All you have to do is understand the basics — and that's something we can teach you at The Entourage.
One of the biggest lessons our Founder, Jack Delosa, has in regards to finance, is that when he found the right people to go in the right positions, managing the money of the business became easy.
"The first rule of finance is that it should be done in collaboration with people who can do it far better than you." —Jack Delosa, P.122 of 'Unprofessional'
Learn from us — we can give you some financial training and connect you with industry experts to help you get your finances right. Starting with how to budget as a small or new business, read on to find out why this is so important and how easy it is to keep tabs on your coin.
What is a business budget and why is it important?
A business budget is a key ingredient in the mix of being in business. It's your scoreboard. It shows you where you're spending money and can help you estimate how much you can spend in the next month or quarter. And overall, this shows you how well you're 'scoring', or growing.
Creating a budget for your small or new business is one of the key factors to your long-term business success because knowing you have the funds to market your product, pay your staff, invest in your business' future, is what will keep your business running.
If your business seems busy, but the money at the end of the month doesn't seem to add up to what you thought it was, then a budget will help you keep track of that money. In business, this is one of the most dangerous things you could do — just coast month to month without knowing how much you've made or lost.
Regardless of what business you're in, whether money is a driver or not, your financials should be visible and up-to-date. This is what will determine how well you do in business
*A note: A business budget is a budget for your business only. That may seem an obvious thing to say, but personal financial details must stay off. You need to keep these separate, or else you may be thinking your business is more successful than it actually is.
The 3 steps you need to take to create a budget
Let's start with the 3 things that will help give you complete financial visibility across your entire business:
A Profit & Loss statement (P&L)
A Balance Sheet
And a 12-month budget
These three things will help you create clarity around the cash flow in your business and whether it's positive or negative.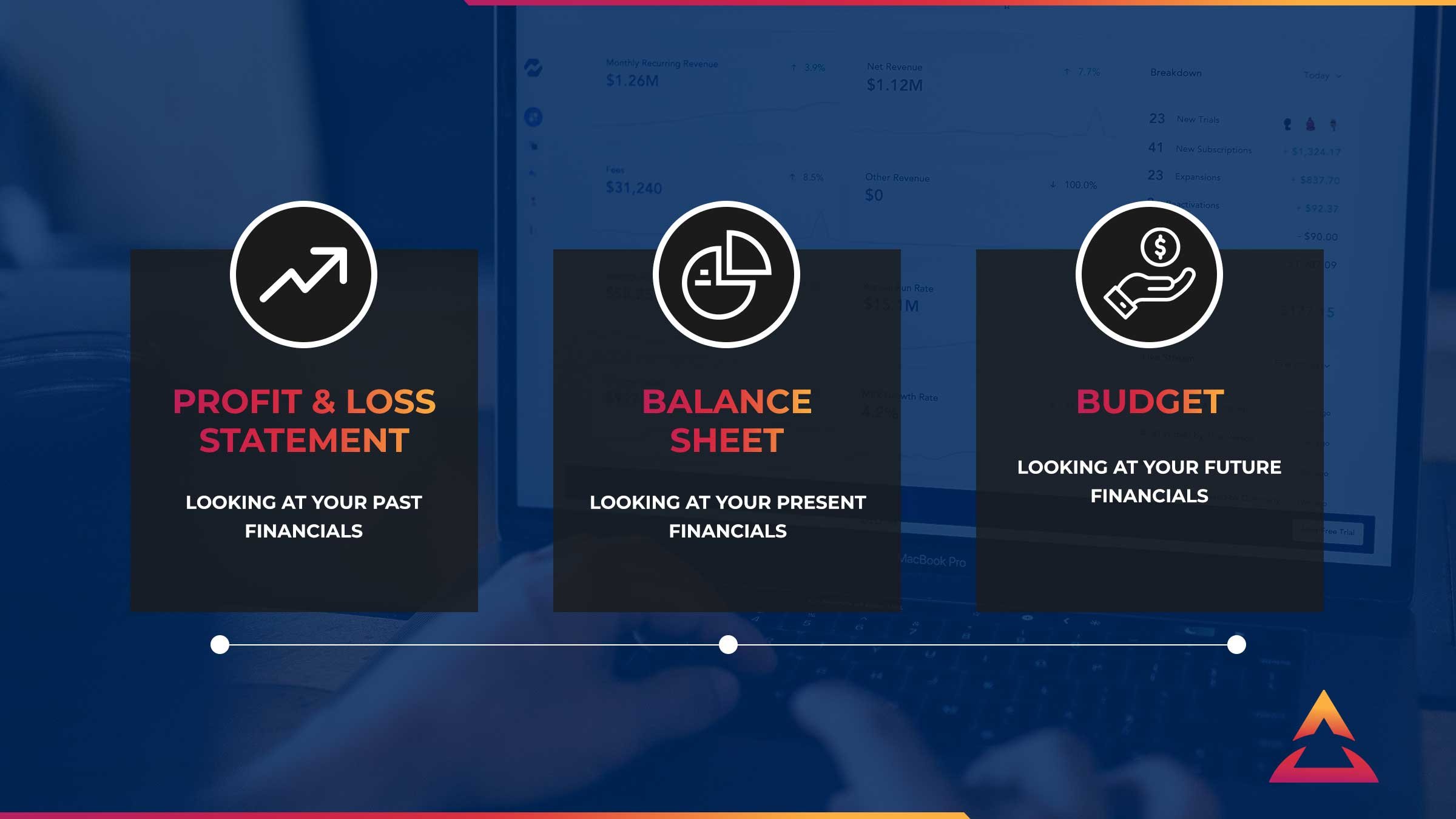 Cash flow is the money that is flowing INTO your business and the money flowing OUT of your business.
If you have a POSITIVE cash flow, more coming in than going out, this is good.
If you have a NEGATIVE cash flow, then there is more money going out than what is coming in. This is bad.
Positive cash flow is the lifeblood of any business, so make sure you're tracking it closely and regularly. Without good cash flow, you could struggle to pay your bills and this will halter your growth.
Profit & Loss Statement
A P&L will show you how much income has come into your business over a given period (such as a month), and what your overall expenses were. Pretty much, it will tell you how well your business performed in the last month, quarter, or year.
Your P&L is critical in helping you know whether you're making money or not, and how well your business is doing month by month. It will show you what you're spending the most money on as well as what's earning you the most money, which can help you make more calculated business decisions as your business grows out of the small or new business phase.
Balance sheet
A Balance Sheet will show you a summary of the assets and liabilities of your business, telling you your current financial position of the business in terms of what you own and what is owed to you (your assets), versus what you owe to other organisations (your liabilities).
Whereas a P&L shows you how your business performed, your Balance Sheet will give you a good insight into the current financial health of your business, showing you how much 'financial supplies' you have in your business.
A 12-month budget
Now that you've looked backwards (P&L) and at the present (Balance Sheet), now it's time to look forward. A budget is essentially a projected P&L — done in the same format, just outlining what you can expect to bring in for the next 12 months.
This is crucial to have goals that you can track your actual progress of the business against, otherwise, you just end up cruising along month by month not knowing how well you should actually be doing. And even if you have a P&L and an up-to-date Balance Sheet, without a budget, and without monthly targets to work towards, you'll get stuck in a cycle of non-performance.
So, how do you create a 12-month budget from the data you've got with your other financial documents?
1. Calculate your estimated revenue
To start off, remember that good budgeting is all about looking forward and estimating how much you WILL earn.
Calculating your estimated revenue is based on your historical data (that you've calculated from the above information) and includes what you expect to make from the sale of your products or service. Look for any seasonal patterns and really analyse the data. If you don't have any historical data, base yours on industry standards. It is an estimate, remember that.
2. Determine your fixed costs
These are the costs of running your business which stay rigid month after month. These can include:
Rent
Utilities
Wages
Insurance
Accounting and bookkeeping fees
3. Project variable costs
These are costs that change month by month, unlike the fixed costs which are set.
Variable costs can also be seasonal. Is your electricity use higher in Summer due to air conditioning, your gas higher in winter due to heating costs? These can include:
Replacing equipment
Marketing costs
Utilities
4. Predict one-time expenses
It's important to set aside a contingency fund for unexpected or one-time costs.
These budget items are not regular, and often not seasonal. By including them on your budget you can tell if you can afford them or not.
5. Tally it all together
Add up your income for the month and then minus all your expenses for the month. Ensure that it's positive by the end. If it's not, there may need to be some adjustments. However, some businesses aren't profitable all the time, especially when you're just starting out, and that's okay! But be clear of what your financial plan is to help you become profitable in the future and stick to it.
Now, let's see what this can all look like. Imagine you're a self-employed marketing consultant, you're successful enough to have a small office. Here is an example of what your budget could look like in a Profit & Loss statement projecting the next 12-months.
| | |
| --- | --- |
| Jan 2021 | |
| INCOME | |
| ITEM | AMOUNT |
| 5 clients (3000 ea) | $15,000 |
| Sales of online course | $1,500 |
| Speaking engagement | $300 |
| Paid media partnership | $2,000 |
| TOTAL INCOME | $18,800 |
| | |
| EXPENSES | |
| FIXED COSTS | |
| ITEM | AMOUNT |
| Rent | $1,100 |
| Internet | $30 |
| Phone | $50 |
| Website hosting | $50 |
| Insurance | $80 |
| Accounting and bookkeeping | $250 |
| Remote reception | $80 |
| Virtual assistant | $120 |
| Lunch | $400 |
| TOTAL FIXED COSTS | $2,160 |
| | |
| VARIABLE EXPENSES | |
| ITEM | AMOUNT |
| Electricity bill | $123 |
| Marketing costs | $1,200 |
| Networking events | $160 |
| Car costs | $120 |
| Printing | $80 |
| Postage | $80 |
| Events | $300 |
| TOTAL VARIABLE EXPENSES | $2,063 |
| | |
| OTHER EXPENSES | |
| ITEM | AMOUNT |
| Discretionary expenses | $1,080 |
| TOTAL ONE-TIME EXPENSES | $1,080 |
| TOTAL EXPENSES | $5,303 |
| | |
| GROSS PROFIT | $18,800 |
| TOTAL EXPENSES | $5,303 |
| NET PROFIT / LOSS | $13,497 |
Of course, this is fictional and not accurate, however, our marketing consultant with only 5 clients is doing pretty well for him- or herself on a monthly basis. Here, they could definitely take advantage of our Accelerate training program for 6-figure business owners looking to scale to 7 and take the business to the next level.
Looking at this budget, and with the generous net return, you could argue that they could reinvest into the business. They could hire more consultants to work under them, spend more on marketing themselves, or even upgrade their technology.
Stay financially organised with your budget
Once you have all of your financial documents in place, it's important to keep track of it in a clear and visible way to help guide your business decisions. And you can do all of this with the help of financial experts. Whether you hire them in-house, find contractors or be guided through the business coaches and industry experts we have in our community at The Entourage, you don't have to do it alone.
It's a good idea to have someone who can keep you accountable to your numbers, especially if you don't love the numbers. Because sometimes it may seem okay to spend money on fancy pens or shouting everyone to lunch, but these 'little things' can add up, and leave your budget tight at the end of the month.
Track what you earn and what you spend. Be honest with yourself so you can see what money you have, or how much you need to earn each month, to stay afloat or grow.
To help you along your journey to keeping accurate track of your financials, The Entourage has a great finance training course made just for small business owners — 'Know Your Numbers'. An investment into your business and yourself, it could help save your business' financial health or accelerate it to greater heights.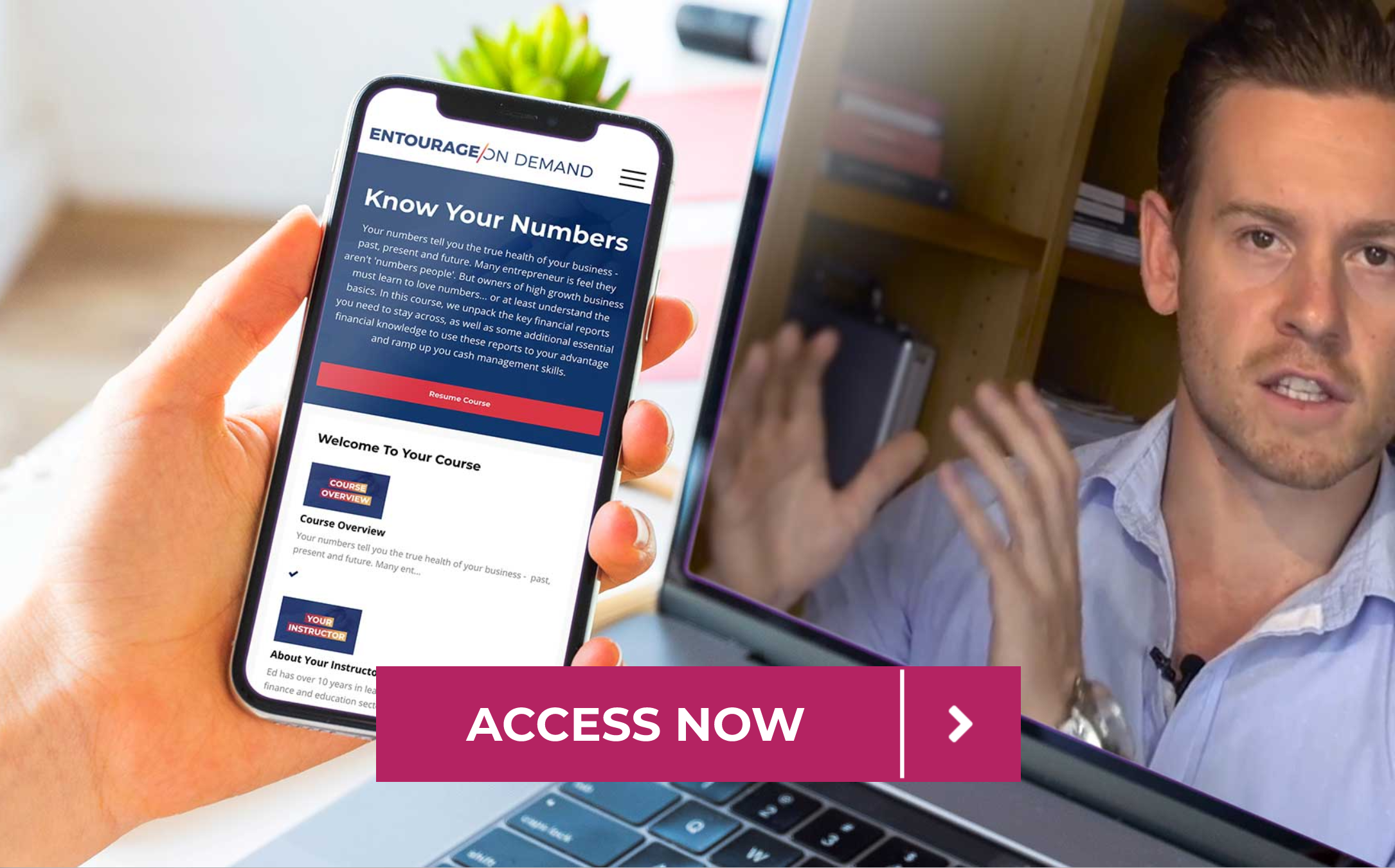 Contact us today if you're worried about budgeting, or want to learn more about how you can keep clear financials to help grow your business. To learn about marketing budget, check out our marketing budget blog
Join the movement.
Your Entourage journey starts here. Join Australia's largest community of over 500,000 business owners and entrepreneurs, and receive instant access to exclusive content and updates delivered straight to your inbox.