The Best 5 Digital Marketing Strategies For B2B Businesses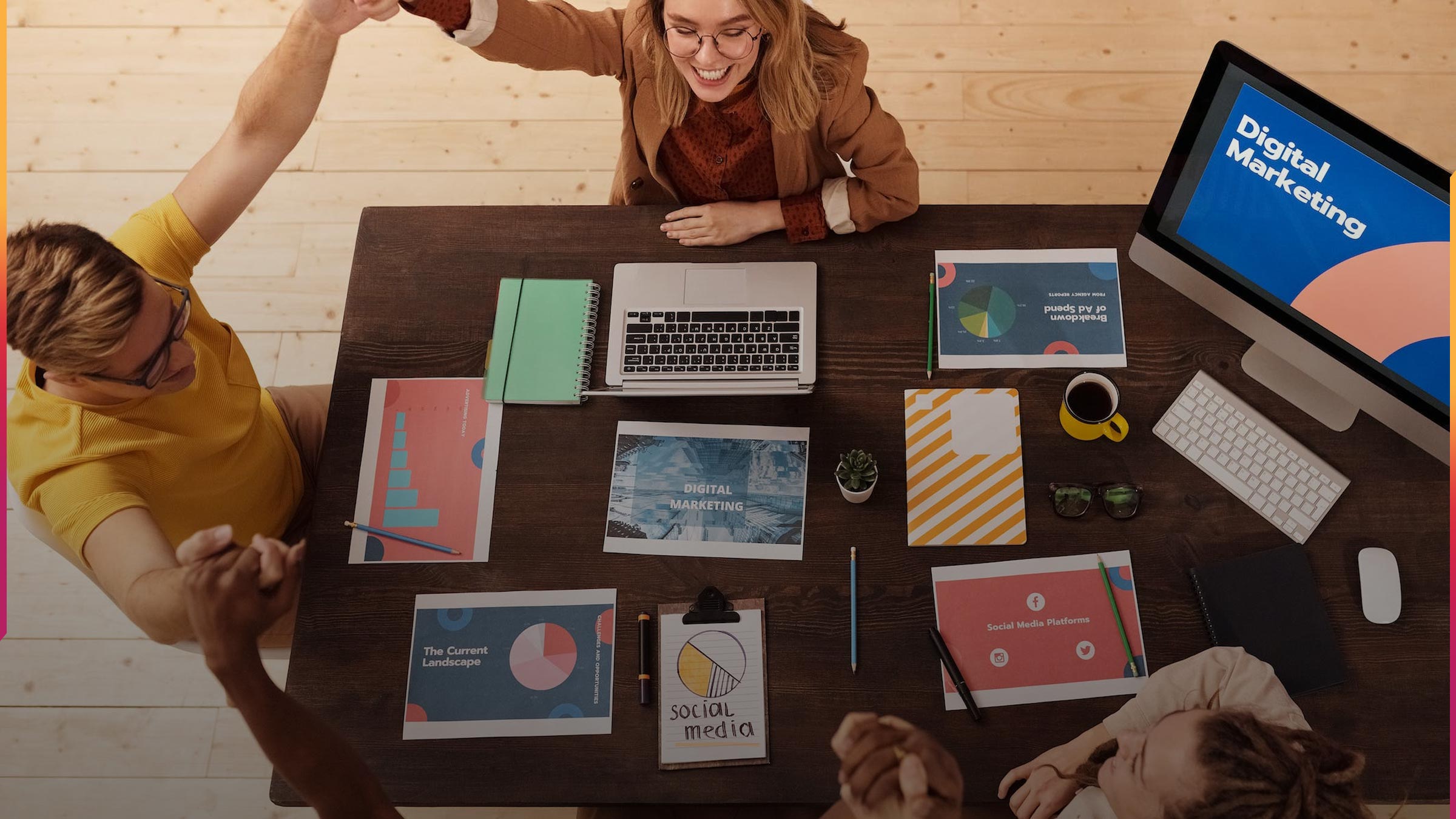 One of the best ways a small business owner or sole trader can compete with the big businesses in your industry is through digital marketing. Even with a smaller budget, through digital marketing you have the ability to level the playing field if you have a good B2B digital marketing strategy.
However, to create a good B2B digital marketing strategy and execute on it, can be tricky as there are so many options and marketing channels available. The pace at which the digital world shifts and changes is also a consideration to keep in mind when creating a strategy. And when it comes to execution, business owners can often themselves in a time sink when it comes to creating content, posting content, and responding to online comments across your digital marketing channels.
For B2B businesses, it can also be much harder to see what the best strategies are for digital marketing when most of the content you'd see online is for B2C businesses. However, our team at The Entourage, Australia's leading training and business coaching provider, are here to show you how you, as a business, can market to other businesses, through the power of digital marketing.
The most important B2B strategies to include in your B2B marketing strategy
When creating a digital marketing plan for your B2B business, you need to understand who your target audience is. With a B2C campaign, you're going after customers, consumers, and people who want to purchase your product or service to improve their lives.
However, B2B marketing is aimed at the organisation itself, and in particular, the person in charge of making purchases for their business. Whether that's the business owner, the CEO, the head of a certain department, it's important that you're aware of your different customer avatars and who your ideal customer(s) might be so that you know exactly what to say to them to influence them to buy from you.
Once you've finalised who your target audience is, then it's time to see which digital marketing channels your target audience will be on the most.
1. LinkedIn marketing
LinkedIn is arguably the best digital platform for B2B marketing. According to The B2B House, 4 out of 5 LinkedIn members drive business decisions. These are the people you want to connect with through your B2B digital campaign.
Some more stats from The B2B House on LinkedIn marketing include:
94% of B2B marketers use LinkedIn to distribute their content. This means that competition can be high, so you will need to have good content to attract attention.
80% of their B2B leads come from LinkedIn which is why, as a business, you need to be on the platform.
What can you do to conduct a B2B marketing campaign on LinkedIn?
Create a company page: LinkedIn allows you to create a company page which can be customised to be like a portfolio for your business and why your target market should work with you. With the ability to brand it, have your employees listed on it, and post content to this page that educates, entertains, and inspire your target market to work with you, this is one of the best channels for any B2B business. Discover more on organic social media content that you can post on LinkedIn and other channels in our blog.
Turn your LinkedIn page into a lead generation page: Write compelling content with a conversion mindset, and invite people to visit your website through LinkedIn advertising. Through your LinkedIn company page, you'll be able to better promote your offers and product or service through in a way that will reach your exact target market through LinkedIn advertising's targeting features that includes everything from demographic to company to job title and more.
Create a showcase on your LinkedIn company page: This extra section for your company page allows you to highlight individual products and services, achievements, and other announcements. It's a great lead generation and branding tool, and a way you can segment and send traffic to your website for each service you're providing.
Use LinkedIn's search functions to find your audience: If you use LinkedIn Premium, the advanced search functions allow you to focus your search for a target audience to an incredible degree. You can filter by career, location, industry, language, and so much more to allow your sales team to really target your audience.
Connect with groups: Another one of LinkedIn's greatest assets is their groups, where like-minded people come to talk and discuss issues in their industry or interests. Join some of these groups, help people (don't sell to them), and you will draw leads to you. Don't be afraid to start your own groups too.
Publish your own content: You can publish articles and opinions to your personal and company profile. Offer advice and help, rather than focusing on selling. Give someone a reason to click through to your profile, ask you questions, and more.
2. Email marketing
Email marketing is still a highly effective communication channel for your customers and leads. Hubspot tells us that 93% of B2B marketers use email in their digital strategies. What's some best practices to keep your email list healthy and engaged?
Enticing subject lines — you want people to open and read your emails, so you need a catchy email subject. Don't make it too long, as it will get cut off in an email inbox. Use tried and true headline practices. Be specific, ask a burning question, use adjectives and use emotional language.
Engage with them regularly — keep them up to date with your business and the industry you're in by offering value, value, value.
Only 1 Call-To-Action (CTA) — you don't want to overwhelm or confuse your readers. Each email should have one purpose and one CTA to serve that purpose.
The best email systems and software will help you better segment your email list into different target audiences, so you can focus your emails more effectively. You can also schedule for a later release and receive comprehensive statistics on open rates and click-through rates. It's helpful to measure the success of your digital marketing strategies.
3. Search marketing
The higher up on Google, or other SERPs (Search Engine Result Pages), you are, the more likely you are to have someone click through to your website. Think about it this way, do you ever go past the second page of Google?
There are two ways you can achieve this.
SEO (Search Engine Optimisation)
Good SEO is a combination of what content you've put on your website, how useful it is to people who come on your page, how your website is formatted for Google and other search engines to read it, as well as how many other websites are referring back to you.
Content on your page: This is the content on your website page that is answering someone's search query. For example, if you sell marketing services for businesses, the content on your website pages should answer questions that people would have around marketing for a business. Questions could include what marketing channels a business should use, to how much a business should spend on marketing, to the way you can help a business in their marketing.
Website formatting: A good website structure allows the Google web bots to index your site and understand what is there. This way, they know what's on your website and can better serve a user's search intent with your content.
Website referrals: Just like in life where you would trust your friend's recommendation more than just a quick Google search or social media ad, Google and other search engines want to ensure your website is trustworthy. How is this done? By getting referrals from other websites to your website, or a link (or backlink) from their website to yours. Google sees this and thinks that others trust your content and recommend it, then it must be better than other content.
Our friends at StudioHawk specialise in this and their pro tip is this: SEO can take a while to start returning results which is why it's vital that you continually work on it and optimise your website for visitors and search queries. By doing this, you will be able to soon see your website pages rank higher on search engine result pages and start bringing organic leads to your website too.
Google Ads
Often abbreviated as PPC (Pay Per Click), this is where you use the Google Ads platform to bid for search queries. Unlike organic SEO where you have to put in the work, time and effort to start seeing if your pages will rank higher on search engine result pages, on Google Ads, instead, you pay money to rank on the SERP. So, when someone puts a keyword into the search, your page could be ranked in the first few results.
Depending on the keywords you're bidding for, it can get expensive. You need to do some solid keyword research and understand the words and phrases your target audience is using, so you don't waste money with little Return-On-Investment (ROI).
It is a quick way to get your page ranking, however, once you stop paying, you will no longer be shown in the results page.
4. Content marketing
In a B2B digital campaign, content marketing serves up content for your audience. Content can include things like articles and white papers, helpful videos, or a podcast. A good content campaign focuses on brand awareness and can help your brand stay in the mind of your target market for a long time. Some important things to keep in mind include:
Have a plan — It's tricky to think of content on the fly. Knowing what to produce ahead of time helps you with not having to think of content every single day.
Give yourself time — While some spontaneous content is good (think TikTok or Instagram Stories), others need time to be produced. Blogs and longer videos need to be created and edited.
Stick to your brand — It can get tempting to come up with some crazy ideas, especially for video content. But stay true to your brand's message to get the best results.
Value — The most important thing you can think of when it comes to creating content is what value are you providing people who are looking at your content? Whether it's a mix of entertainment, education, inspiration, or something else, it's vital that you look at your content and ask, is this boring or is it actually interesting?
5. Digital P.R.
Digital Public Relations (P.R.) is a digital strategy similar to content marketing however on different channels and through other people outside of your organisation. You, or your P.R. agency, will create content to distribute to the media all around the topic of what you, your business, or your product/service is doing in your industry. Focused around the achievements that your business is doing and interesting stories that the media will be interested in. Doing P.R. can reap you some huge rewards in a brand awareness perspective.
6. Facebook & Instagram ads
This social media channel might not seem like the most logical place for B2B digital marketing, but understand that those who make the purchasing decisions for organisations, are often on Facebook and Instagram as well as LinkedIn.
Understand where, on the funnel, your ads sit. Is it at the top to draw in new clients, or further down talking to already interested clients?
Use Meta's filtering system to ensure you target the right people with your campaign.
Create a landing page for the ad to click through to so you can measure traffic from Facebook.
Utilise all forms of content. Images, videos and stories all work well on Facebook and Instagram. A video showing how your products help people can have great reach and bring in many leads.
Are there any strategies B2B businesses should avoid?
The options for digital B2B marketing can be many, but some will have lower ROI than others, and some channels just won't be appropriate for your business's target market. It's up to you to ask questions and test channels include thinking about where your audience is. Are the business people you're targeting really going to be on Instagram looking to buy? Would a social media influencer actually help you find B2B leads?
It's easy to get caught up in the latest digital trends so don't throw your marketing budget onto any and every social media channel hoping for some results. Be strategic, test, review results, and see what works well for your target market and business.
Need more help from experts with been-there-done-that experience? Reach out to our team at The Entourage to see how we can give you a free business coaching session today and help you start building the business of your dreams.
Join the movement.
Your Entourage journey starts here. Join Australia's largest community of over 500,000 business owners and entrepreneurs, and receive instant access to exclusive content and updates delivered straight to your inbox.