How to Effectively Lead Your Distributed Team: A Definitive Guide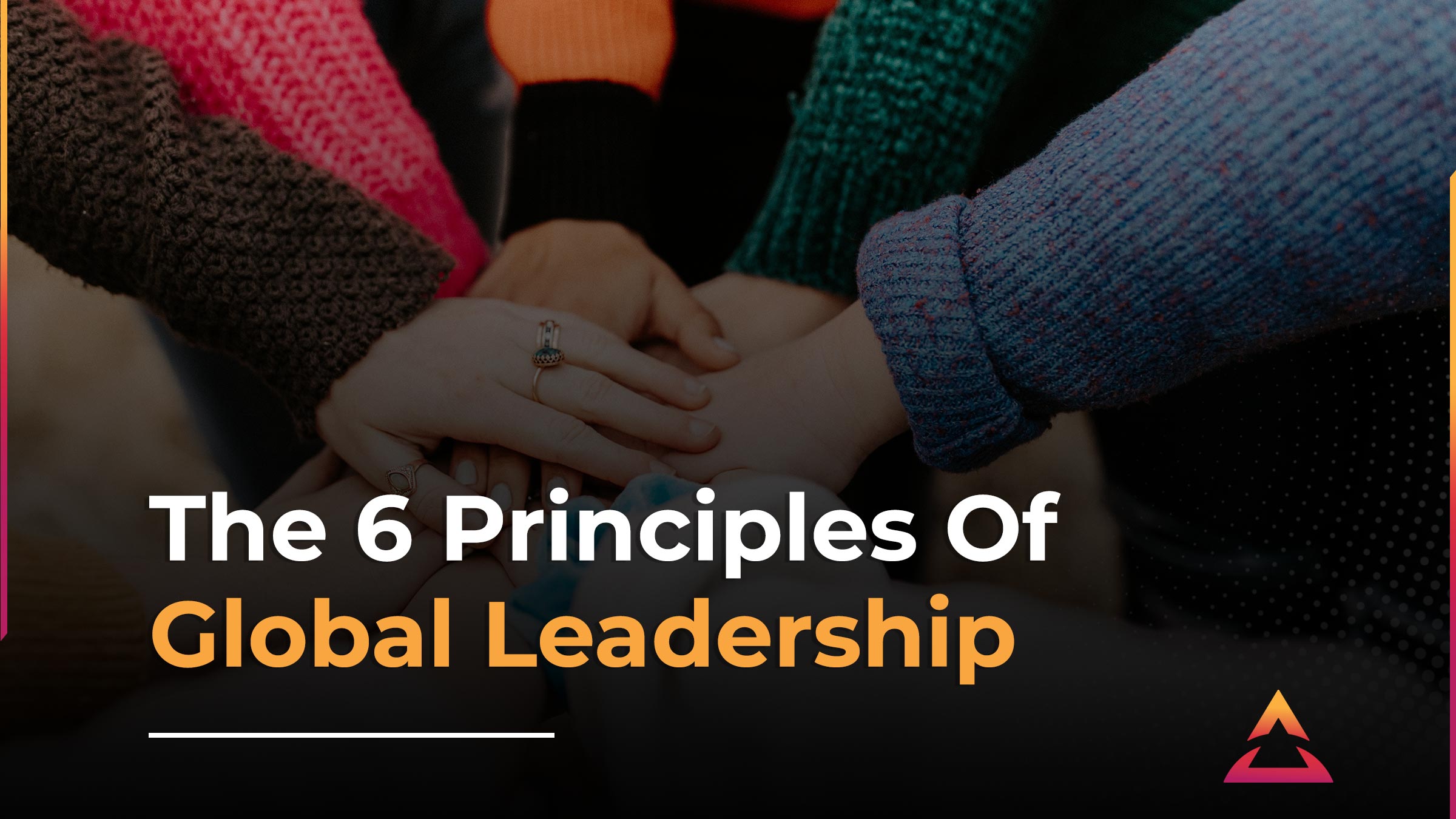 The COVID-19 pandemic saw more people working remotely than ever before. Two years after the crisis started, there is an increasing number of businesses who work entirely with a distributed team.
As opposed to the hybrid working model used by many remote employees, a distributed team works without any in-person office space.
This way of working offers unique challenges from a leadership perspective. How can you effectively lead a team that you never meet in real life? Fortunately, you're in just the right place to find out!
This article is your definitive guide to leading a distributed team. We'll explain the huge advantages of a distributed workforce, and how you can optimize this way of working to get the best results.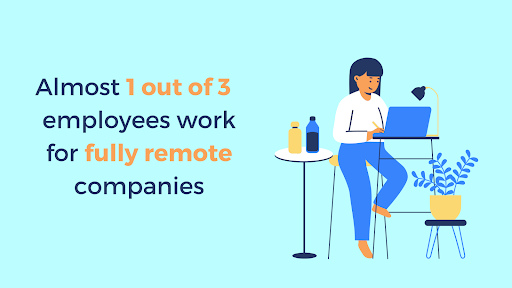 Image made by writer
Statistic source
Benefits of a distributed team
First of all, you've made a great decision by choosing to work with a distributed team! Working remotely has massive benefits for both your business and employees.
Once you're no longer limited by location, you can hire talent from all across the globe. The perfect candidate could be from anywhere in the world. This widens your hiring pool and allows you to target the absolute best people for the job, regardless of how far away they are.
Studies are showing that many people are happier and more productive working in a distributed team. This chart below shows just a few of the most common benefits reported by employees: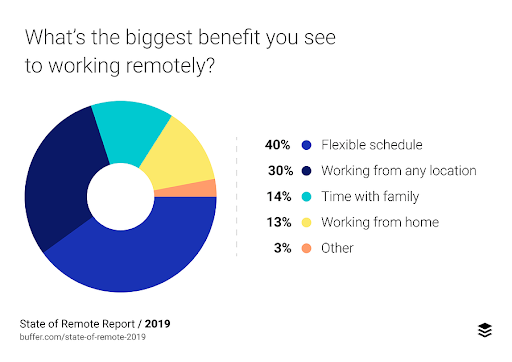 A flexible schedule boosts productivity because it allows employees to set their work day around what suits them best. If they'd rather start at 11am instead of 8am but work later in the evening, that can fit easily into a distributed team's timetable. Not everyone is a morning person and that's okay.
Being able to spend more time with family is also great for employees at all levels because it supports mental health and wellbeing. Stick around to learn more about that later on in this guide.
A happier, healthier, more productive team is a fantastic foundation for a business in any industry or professional sector. But to reap these rewards, you need to sow the seeds with great leadership. These next few sections set out some of the most effective techniques for leading a distributed team.
Communication is key
With everyone working in different places, it can be tricky for team members to keep track of where their colleagues are up to in a shared project or task. The larger the distance, the more important communication becomes.
Thankfully, there is no shortage of both new and established technologies to help people stay in touch. Video conferencing is the preferred communication channel for most remote businesses because real-time video and audio makes it very similar to an in-person conversation.
This is especially useful for conference calls where there are multiple people trying to get their ideas heard. 79% of respondents in an OwlLabs survey said that video conferencing is equally or more productive than in-person meetings.
But if you've got people working in several very different time zones, then synchronous communication like video calls might not be best. Look at instant messaging platforms made specifically for businesses, or even just use good old fashioned email.
Whatever platform you choose, keep it well organized and avoid sending unnecessary messages. For example, does your graphic designer really need to be in the message thread where you're talking about financial operations? The answer is probably not! Have separate group-chats or channels for each team so that everyone can stay focused.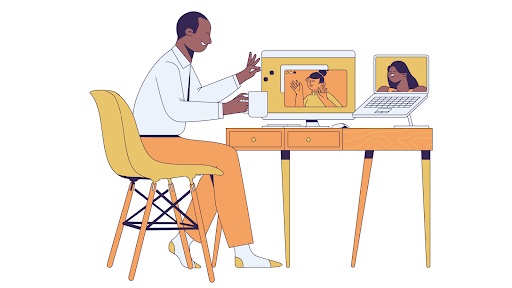 Image made by writer
Set clear expectations
Online communication is great for staying in touch. However, you also don't want to spend all day sending updates about every single thing, or checking in with dozens of people separately. This is where it's super helpful to set clear expectations.
If part of your business is making online content, such as blog articles, it is useful to have standardized content guidelines. Make these easily accessible to all team members so that they can refer back to it whenever they need. This will answer most common questions, so they may not need to contact you directly.
As well as guidelines for what work to produce, clearly set out when that work is due. In a distributed team you may have people working in different time zones, so always specify that in any deadlines.
Feedback
Part of having clear expectations is communicating whether or not they're being met. Whether it's a one-on-one video call, or a quick email, it's good to let your employees know when they're on track.
Project management
If you're leading a large team there might be many deadlines going on at once. Good project management puts everything on one page to help you keep track of each employee and their current tasks. Successful project management is therefore an important step towards work optimization.
For each project, create a list of tasks and assign them to a member of the team. Then put these tasks on a timeline so that everyone knows what they should have achieved by a certain date. This is part of setting clear expectations which we mentioned earlier.
Shop around for different software and tools. Try to find one that meets both your project management and communication needs. Less time moving about between apps will make your business more streamlined and efficient.
Utilize systemization
Another way to support your distributed business is by using systemization. Business systemization, such as using an Applicant Tracking Systemm or a CRM, lets you focus on the important parts of your work because some of the admin is more straightforward.
Some aspects of your business, such as inventory tracking, could be automated entirely. Other parts of systemization include having a clear list of roles, responsibilities, and contacts so employees know who to ask if you're away from work.
Regardless of which ecommerce platform or software your business uses, systemization can make it more efficient.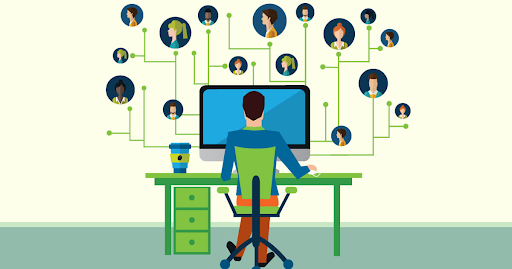 Put people first
Technology is a brilliant tool, but it's only as good as the people who use it. This is why the best business leaders put people first. Great leadership strategies support employees at both a one-on-one and team level.
Foster team building
Team members can sometimes feel disconnected from each other in a distributed work model. Employees that only interact when they're working, with no out-of-office socializing, may find it hard to build relationships.
Video calls are just as well suited to socializing as they are to meetings. While work should be your first priority, it can be helpful to have a quiz or casual chat so that all team members can get to know each other.
Support mental wellbeing
Mental health has become somewhat of a buzzword lately because people are beginning to talk about it more openly. It impacts all areas of our life, including our work, which is why mental health awareness is vital in any leadership plan.
Mental health problems can be harder to spot when people are working remotely. You don't have as many opportunities for that all-important watercooler talk or coffee break chat. There can also be less of a divide between 'home life' and 'work life', which makes it harder to switch off and relax.
People may struggle more during periods of increased demand on the business, like if they are dealing with a high volumes of calls. As a leader you will need to offer extra support during these times.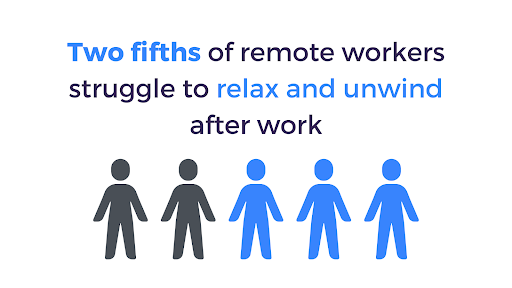 Encourage your team to speak up if they are struggling at work, and direct them towards any support that's available. Like any other problem at work, help from coworkers might be exactly what you need.
Anticipate common problems
As well as employee struggles such as mental illness, it can help to anticipate problems with technology. After all, a good business leader tries to address problems before they happen.
Check any company apps or websites for types of software bugs before releasing them to your customer base. No one is going to spend money on an app that doesn't work! Pre-launch testing may sound obvious, but it is a crucial check to do.
This is important for any kind of business including ones that employ a distributed team.
Closing notes
Distributed workforces are not only our present but our future. They have a huge potential for all kinds of business owners. By following the tips in this guide you too can access that potential.
As we've discussed, there are many different aspects that go into leading a distributed team. Striking the right balance between optimized workflow and project management, as well as building a happy sociable team does take work. Once you employ a leadership style with strong communication and efficient systemization, your team will reach those high standards in no time.
We know that adapting to remote working can be difficult if your previous experience is in offices or in-person spaces. That's exactly why we provide guides like this one, to help your business deal with the problems of today.
Work hard, get results, but don't forget to look after yourself and your team too. Good luck!
Join the movement.
Your Entourage journey starts here. Join Australia's largest community of over 500,000 business owners and entrepreneurs, and receive instant access to exclusive content and updates delivered straight to your inbox.