What Business Structure Is Right For Your Business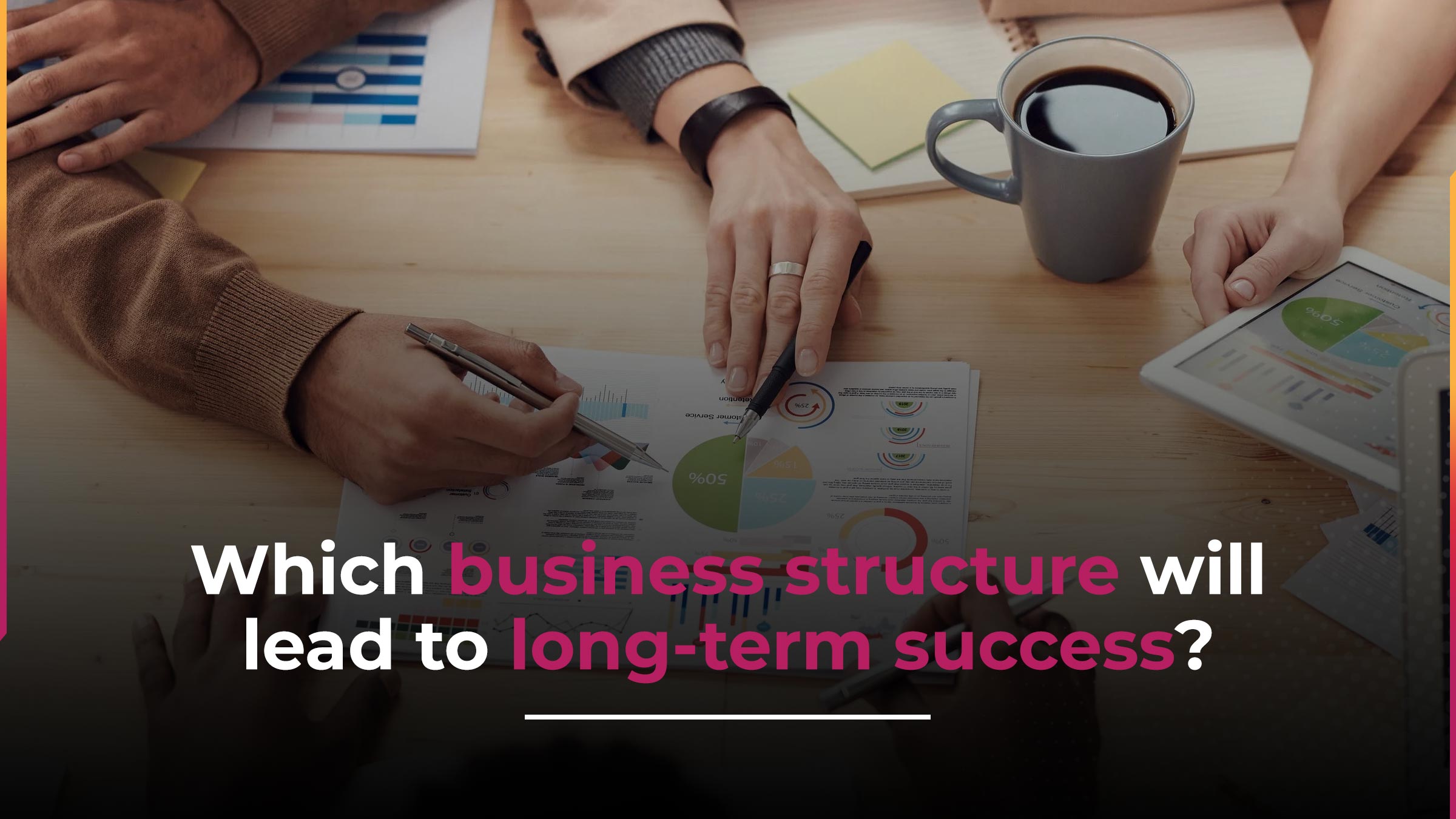 If you're starting a business in Australia, how do you want your business to be structured? What are your options? A business structure will depend on the size of your business and will have an impact on tax liability, asset protection and costs associated with setting it up.
We'll tell you about the 4 different types of business structures in Australia and what kind would be best for you.
What are the 4 types of business structures in Australia?
Sole trader business structure
A sole trader is often the first type of business structure when freelancers start their own business. A sole trader is a single person in business. This person is legally responsible for all debts, losses and liabilities of the day to day running of the business.
Key elements of being a sole trader include:
It's low-cost and straightforward to set up
You have full control over assets and business decisions
You are also fully liable to pay tax on all income derived from the business
You can use your individual Tax File Number (TFN) to lodge tax returns
You don't have to make super contributions to a super fund
You can hire people to help you under a sole trader structure
This is an easy business structure to set up and perfect for those just starting their business journey such as graphic designers and web designers, tradies working for themselves, and more.
This business structure allows you to run a business without too many headaches. It gives you a chance to learn what it's like to be in business for yourself, to learn and grow as a business. Succeed at this level, and you can then move into a new business structure.
Company business structure
A company business structure is where you set up a legal entity that is separate from you. You work for the company. As it is a separate entity, it can be sued and incur debt. As you only work for the company, you, personally, are not liable for these key elements of being a company.
A company structure includes:
Being a separate legal entity to yourself
Not being personally liable for debts incurred by the company
High set-up costs and running costs
Can be controlled by directors and owned by shareholders
Money earned all belongs to the company
Needing to lodge an annual company tax return and complete an annual review
Having wider access to potential capital
An advantage of a company structure is the business can continue through different management or if key personnel can no longer work in the business. If you have a fear of legal repercussions with your line of work, a company structure protects you from losing your personal assets.
When your business becomes a six and seven-figure business, a company structure could help you maintain control of the reins. You could start adding in a board to help with business decisions, and funding can be raised through shares or other investment opportunities.
Partnership business structure
As the name implies, a partnership is a business structure involving at least two people who share the income and losses of a business. In theory, they share these equally. However, this arrangement can differ depending on the type of partnership entered into.
3 types of Partnership business structures:
General Partnership (GP) - All partners are equally responsible for managing the business. They are also equally liable for debts and losses and any obligations which arise.
Limited Partnership (LP) - General partners whose liability and share in profits are linked to the amount of capital they contribute to the partnership. Often passive investors with little role in the day-to-day running of a business.
Incorporated Limited Partnership (ILP) - Most partners can have limited liability for debts and losses, but there needs to be at least one partner with unlimited liability. If the business cannot meet obligations, this general partner, or partners, will become liable for the shortfall.
What are some of the features of operating as a partnership?
Easy and inexpensive to set up
Minimal reporting requirements
You need a separate TFN for the partnership, and a separate ABN for all business dealings
There is shared control and liability, so you don't have to shoulder everything yourself
No income tax, just individual tax, paid for by each partner for the net profit each receives
Each partner is responsible for their own superannuation
Check the various laws regarding partnerships in each state
Partnerships can work if you need more people to help you or to get team members invested in the business, but you want to be less formal than a company structure. It allows for separate responsibilities and liabilities, which often sits well with people getting involved.
Trust business structure
A trust structure is complex and expensive to set up. In this model, a trustee carries out the business operations on behalf of the trust's members.
This trustee can be a person or a company, and is responsible for everything in the trust, such as income, losses and debts.
Elements of a trust structure:
It can be expensive and complicated to set up
Formal trust deed to outline how the trust operates
Formal yearly administrative tasks by the trustee
It provides more privacy to the trustees than a company structure
Assets are protected
Difficult to dissolve trust once established
Running a business through a trust can have its tax advantages. However, a growing business run as a trust can be restrictive.
Furthermore, looking for investors can be difficult. They generally want to invest in a company style business rather than a trust.
What business structure should you use?
Where you are in your business lifecycle can determine what kind of business structure you need.
If you're just starting out, being a sole trader is simple to establish and easy to maintain.
When your business starts to grow, and you want to move into offices, hire some people, and get assets for your business, then transitioning to a partnership or company would be a good move.
You can consider engaging employees as partners, having them literally invest in the business and become a part of the journey. Or you can grow the business through a company, with shareholders and a director.
If your business gets big, 6 or 7, even 8 figure turnover per year, then a trust can be good to protect assets. Complex to set up, but if you are that large, the legal costs are certainly worth it.
Or sometimes, you might want to remain a sole trader for the life of your business. Some people are quite successful in business, and life, and they never stop being a sole trader.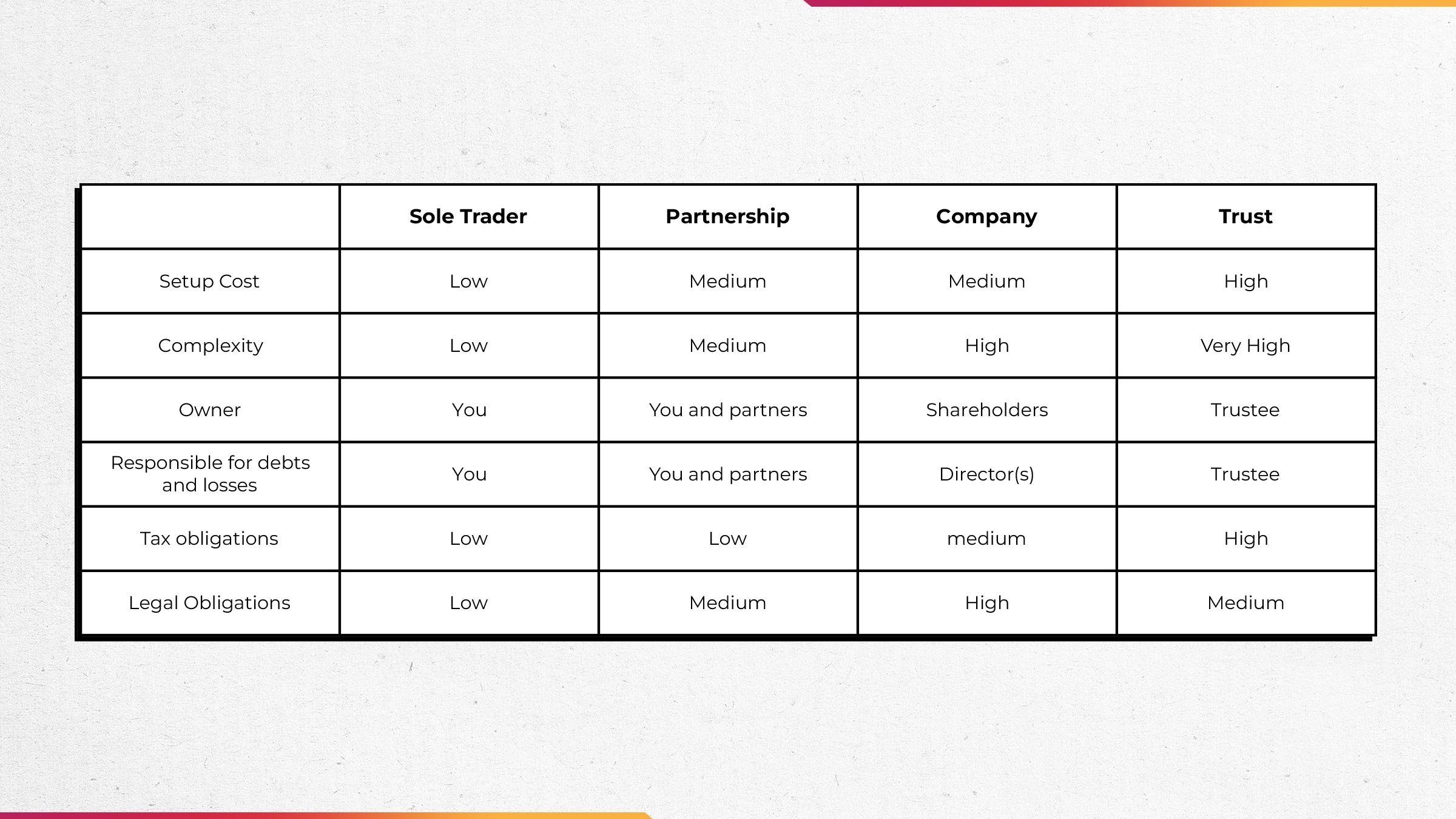 Still not sure what business structure to use? Work with one of our business coaches!
If, after all this information, you're still unsure which business structure best suits where you are or where you want to be, then get in touch with our team at The Entourage to see how working with our team of business coaches could help you make the right decision for your business's longevity and growth.
With experience across 150+ industries all over Australia, and having helped 3500+ businesses before you find success, our team at The Entourage can help you and your business get set up to operate successfully and smoothly.
Our business coaches can help you establish your 12-month roadmap or develop a business plan, which also helps establish what your business structure will be.
Have more questions?
Do you have any more questions for us? Let us help you with a free 30-minute call with one of our Entrepreneur Development Managers, ready to help you develop a roadmap to take your business to 7 or 8-figures, and beyond.
Join the movement.
Your Entourage journey starts here. Join Australia's largest community of over 500,000 business owners and entrepreneurs, and receive instant access to exclusive content and updates delivered straight to your inbox.