Review of The Entourage's Business Coaching Programs
"We grew from $1M to $16M in 3 years"
Sunil Kumar, Reliance Real Estate
The Entourage has coached 3500+ businesses across more than 150 industries
Our business coaching and training has generated $2 billion in revenue for our Members
You'll join a global community of 550,000+ entrepreneurs and business owners
What does The Entourage do?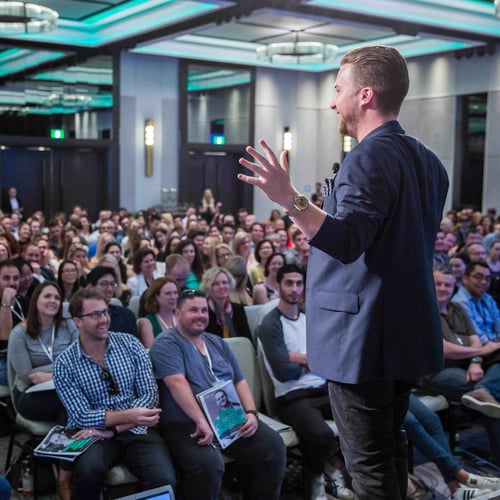 The Entourage is Australia's leading business coaching and training provider for 6, 7 and 8-figure business owners, and the country's most-recognised brand when it comes to paving the path forward for high-growth entrepreneurs.
Based in Sydney, The Entourage has transformed more than 3,500 businesses in over 150 industries since 2010, and has generated more than $2 billion for their Members, who paint the lists of Australia's fastest-growing companies and most successful business owners.
Founded by Jack Delosa, high-profile entrepreneur and investor, 5X AFR Young Rich List Member and 2X best-selling author, The Entourage believes that it is entrepreneurs and business owners who drive the world forward.
Their vision is to help move the world forward through entrepreneurship, and they do this by empowering business owners and giving them everything they need to build great businesses and live meaningful lives.
How is The Entourage different?
Provides tailored coaching and training programs tailored to the stage of business their Members are at
Access to an entourage of coaches, specialists and experts in all areas of business to help drive profitable and sustainable growth including Marketing, Sales, Product, Finance, People, and Operations
On demand coaching and advisory services included in their Membership, plus access to Expert Growth Partners who are deep specialists across all areas of business
Joined by a $760 million community of like-minded entrepreneurs at the top of their game who are all on the same trajectory as each other
Endorsed by Australia and the world's greatest entrepreneurs, business leaders and media
Membership programs are made only for established small to medium-sized business owners, not those with ambitions of starting a business
While there is a vast library of online resources, The Entourage programs are not set and forget and you will be guided with tailored success and business coaching based on the stage your business is at, and where you want to get to
Unlike alternatives, The Entourage is not just a community or support network of other business owners on the same journey, but they also provide access to a experts who are willing to share their been-there-done-that experience
No cohorts in their Membership program meaning you can join anytime, from anywhere, if it's a right fit, without waiting to get started
Their program isn't offered to only specific industries or areas of business you might be challenged in — you'll receive training and coaching across all 6 areas of business no matter what industry you're in
How Entourage Members achieve success
The Entourage has helped generate $2 billion for Australian businesses. Their success is why The Entourage exists.
The Entourage

has been featured on
Programs with The Entourage
With 3 core programs that provide elite coaching and training for business owners at every stage, The Entourage provides a personalised experience that builds both the entrepreneur AND their business by connecting them with elite entrepreneurs and industry experts with proven strategies that help them achieve tangible results.

Online access to the world's best entrepreneurs and experts to start, run and grow a profitable business.
Fast Track

Australia's only business coaching and advisory program exclusively for 7 and 8-figure founders.
Elevate

Business coaching & training program for business owners who want to accelerate their growth from 6 to 7 figures.
Accelerate
Want to become the next success story? Discover your best next steps with a 30-minute free call.
Discover your best next steps for building the business you've always wanted by booking in a 30-minute free call with one of The Entourage's experienced Entrepreneur Development Managers. Click on the link below to unlock the strategies and frameworks The Entourage can teach you to build a scalable, self-managing and profitable business.
Gain full clarity on the core growth opportunities and most pressing challenges facing you and your business.
Connect with Australia's leading business coaching and training provider for 6, 7, and 8-figure founders.
Walk away with a roadmap to elevate your business to the next level.
Frequently Asked Questions
Who is The Entourage right for?
How credible are The Entourage's business coaches?
Do The Entourage's business coaches work with all sizes and industries?
Will The Entourage's business coaching programs actually work for me and my business?