THE ENTOURAGE'S BOOK CLUB
Grow yourself and your business with our recommended reading for entrepreneurs
We understand just how challenging growing a successful business can be which is why we've partnered up with Australia's leading online bookstore, Booktopia, to help make your business journey easier with our top picks for business books to help you succeed.
Discover how you can accelerate your business and personal growth through the resources and knowledge to be gained from the business and personal development books listed below.

Looking for new business books to read in December 2022? Here are The Entourage's recommendations for business books for entrepreneurs everywhere. Featuring some of Australia's leading entrepreneurs and recent Make It Happen Summit speakers, discover inspiration, motivation and knowledge in these featured books made for small business owners just like you.
The Accidental Entrepreneur
Get the inside story of Boost Juice, a global phenomenon, and discover 30 strategies for business success from its founder, Janine Allis. Share in Janine's colourful stories as a serious business woman on Shark Tank, a mud-covered competitor on Australian Survivor, and author.

Learn how this mother of four transformed her healthy living idea into a beloved brand by doing retail differently.

Anyone pursuing success can will enjoy a behind the scenes look at her famous global franchises.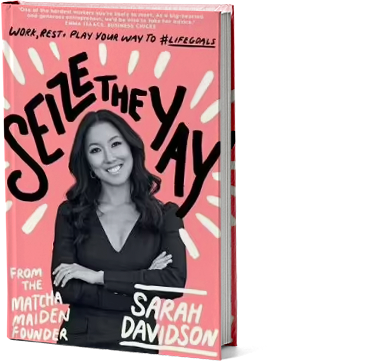 Seize The Yay
A savvy, uplifting business and life guide for entrepreneurial millennials seeking to find their yay - from the Founder of Matcha Maiden, Match Mylkbar and the Seize the Yay podcast, Sarah Davidson.

There are so many wellness and business titles on the market focusing on success and productivity, but not many which encourage you to break that autopilot circuit of 'busy' and flip the conversation back towards what makes you yay.

Here, Sarah shows how it can be done without losing your joy or sense of appreciation for the journey. Seize The Yay is your one-stop shop for achieving business success.
MUST-READ IN YOUR LIFETIME
Unsure of where to get started in your business growth journey? Let us help you with The Entourage's lifetime business book picks. From some of the world's leading experts, investors, entrepreneurs and figures, these are the best business books of all time that will help you kickstart your journey to success. Whether you've been in business for a while or you're just starting out, these business books will help you shift your mindset, help you see new perspectives, and give you life lessons that you can take into the rest of your life as a business owner.
More business resources exclusive to The Entourage community
Join Australia's largest and most engaged community of business owners and entrepreneurs with The Entourage by accessing invaluable business knowledge, resources and training to help you elevate your business to the next level.