Business Coaches for Real Estate & Property
"We were making $1 million a year but with The Entourage, we went to $16 million."
Sunil Kumar, Reliance Real Estate
Learn how you can drive and enable the growth of your property or real estate business with the help of our business coaches, advisors and industry experts at The Entourage, just as we did with Reliance Real Estate.

What to consider when hiring a coach for your
real estate & property

business?
Are you tired of living (and working) in fear after reading each new days' property and real estate update? Are you tired of finding new ways to stand out in a saturated market? What if we told you that success in real estate and property can really happen - even with the endless barrage of negative comments surrounding market drops, property volatility and lack of stock. Sounds too good to be true? It's not.
We know exactly what you're going through - because as Australia's leading business coaching and training provider for business owners, we've helped thousands of other business owners in your exact position. With an entourage of business coaches, advisors and industry experts at your disposal who are not only invested in your business's success but have helped thousands of real estate & property businesses before you, as well as businesses across 150+ other industries, you know your real estate & property business will be in good hands.
With programs tailored made for your business's current size, challenges and needs, you'll find no other business coach like ours. Aimed to help you master the 6 pillars that every multi-million dollar business has succeeded in — Marketing, Sales, Finance, Operations, People & Leadership, and Product, your business coach will be able to help you turn your real estate & property business into one that is scalable, sustainable and can soon work without you by helping you overcome your business and industry's specific challenges including:
Doing what you've always done won't work
The property market is always changing - policy changes, volatile markets and mortgage rates all compound that. But you don't have the time or resources to constantly update your approach to real estate & property.
Competition overwhelm & distraction
Competitive analysis can turn into competitive paralysis. You have the right ingredients for a successful real estate business, but you feel overwhelmed by the competition and don't know how to stand out from the crowd.
Market uncertainty & volatility
Shifts in the property market severely affect consumer confidence. But when there's so much uncertainty, how can you best market to vendors, and maintain that confidence for the sake of your business, your team and yourself?
Reinforcing property confidence
You've got the knowledge and insights that reinforce supply and demand, but you're unsure of how to best drive an informed conversation about when to list, and the optimal marketing strategies to grow your property business.
You need a support system
Stop thinking how, starting thinking WHO. Your property business won't outpace your own growth as a leader, so how can you bring on a team and enable them to step up so you're focussed on your highest and best use?
You want guidance but don't know where to look
You don't have the capacity or bandwidth to test and fail right now. You want to learn what you need to do...and what not to do from mentors, industry experts, and leaders in the real estate & property industry who are where you want to be.
Real Estate Businesses We've Helped Succeed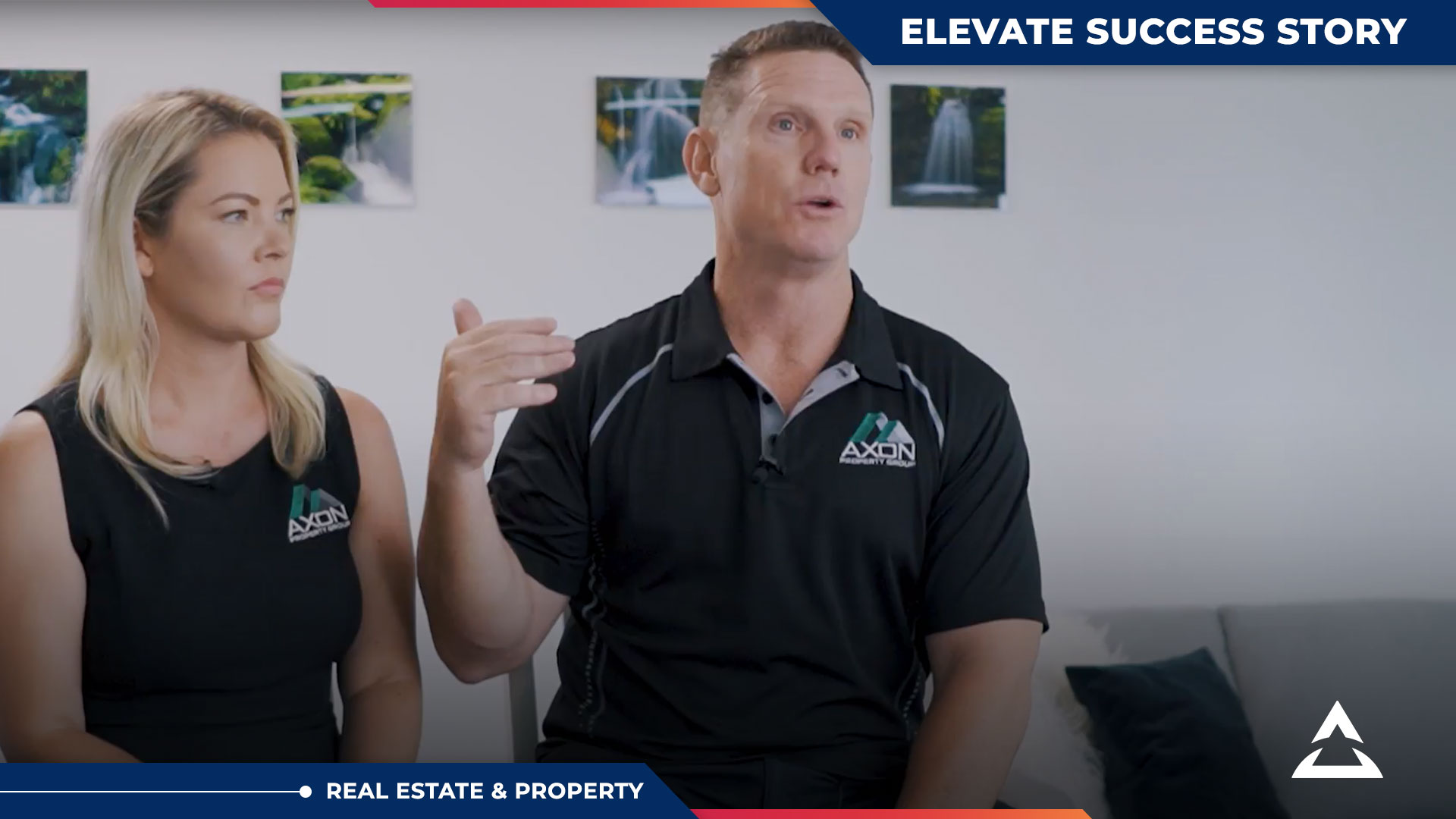 Robbie and Tamara were able to 10X their monthly revenue within 18 months of joining The Entourage
For Robbie and Tamara Turner, business partners and life partners, working together in their business, Axon Property Group, was difficult to separate their lanes and responsibilities between their personal life and business. Realising they had hit a plateau and needed help setting clear, defined roles for the both of them, they joined The Entourage's Elevate business coaching program.
Within 18 months, they went from a 6-figure business to a 7-figure business, 10X'ing their monthly revenue, and growing their team by 3X. Most importantly, they were able to do this through clear definitions of their personal strengths and responsibilities in the business.
How The Entourage can help your real estate business
We have three key programs at The Entourage, all tailor-made to your real estate & property business's specific size and challenges that you're currently facing. Our two main business coaching programs are Accelerate and Elevate, aimed at business owners at 6, 7 and 8-figures, and will give you access to a team of business coaches who will guide you through a 12-month roadmap to help you gain the right knowledge and tools to start scaling your business to the next level.

Online access to the world's best entrepreneurs and experts to start, run and grow a profitable business.
Short Course

Australia's only business coaching and advisory program exclusively for 7 and 8-figure founders.
Elevate

Business coaching & training program for business owners who want to accelerate their growth from 6 to 7 figures.
Accelerate
Discover your best next steps for building the business you've always wanted with a 30-minute free call.
Gain full clarity on the core growth opportunities and most pressing challenges facing you and your business.
Connect with Australia's leading business coaching and training provider for 6, 7, and 8-figure founders.
Walk away with a roadmap to elevate your business to the next level.
Who are these Discovery Sessions best suited for, and what can you expect to get out of this 30-minute free call with one of our experienced Entrepreneur Development Managers? Learn more about our Discovery Sessions here.
Frequently Asked Questions
Will I have a real estate & property specific business coach?
How can a business coach help me grow my real estate & property business?
What will a business coach help me with in my real estate & property business?
Do I need a business coach for my real estate & property business?